Opportunities for American lamb: ASI president offers insight into the state of the American lamb industry at annual convention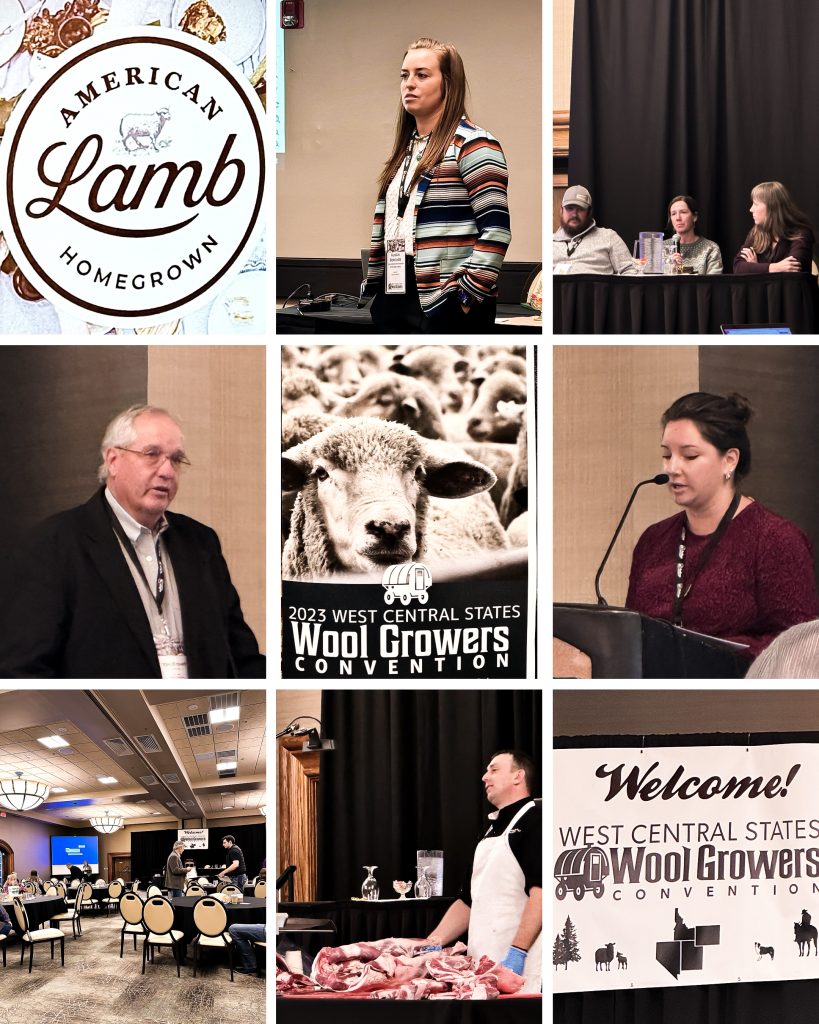 On Nov. 2-4, the West Central States Wool Growers Association held their annual convention at the Riverside Hotel in Boise, Idaho.
With a resounding theme of "Opportunities for American Lamb," the meeting agenda was packed with an impressive lineup of educational programming, including a range of topics from targeted grazing to reproductive technologies and fabrication of lamb to export marketing strategies.
The event also included updates from state and national organizations, and to kick off the weekend, American Sheep Industry Association (ASI) President Brad Boner offered insight into what's in store for the American lamb industry.
Farm bill priorities
Boner began with a discussion on the hot button topic of the upcoming farm bill and listed ASI's priorities in regards to this important legislation.
First, he explained because Livestock Risk Protection (LRP) rates have not been updated for nearly 20 years, the association hired David Anderson, PhD and Extension economist from Texas A&M University, to streamline loan rates to more modern levels which represent current market conditions.
Boner noted other priorities include renewing the Wool Manufacturing and Research Trust, which utilizes funding to help with the U.S. military wool program, as well as acquiring funding for the National Animal Disease Preparedness and Response Program (NADPRP).
"We also want to continue to fund conservation and disaster programs, which are in the current farm bill and are a big safety net for producers," he stated.
Confidentiality rules and price reporting
Following the shutdown of Mountain States Rosen, Boner explained the U.S. lost confidentiality rules, which dramatically impacted price reporting in the American lamb industry.
"The Risk Management Program (RMP) told us if we didn't have a price reporting mechanism to determine end value, they wouldn't be able to move forward with LRP lamb, so we are working to get another kind of RMP product out there," Boner said.
He noted in the last six months, RMP has agreed to conduct a research product to develop a new form of RMP for sheep producers.
"Again, mandatory price reporting has been expired for over a year now, so we are continuing to push really hard to get it reinstituted," he stated. "It is key to our success and our knowledge base to have robust price reporting. We can't make good business decisions without it."
With this, Boner encouraged producers to participate in upcoming listening sessions taking place across the U.S. throughout the next month. Dates and times for these meetings are still to be determined.
NADPRP and SSWS Plan
Next, Boner discussed the NADPRP grant, stating, "I have to admit, when I first started with this I was pretty ignorant to the topic. However, I was able to participate in a lockdown demonstration in Colorado last spring, and I strongly recommend everyone take a little time to go learn more about the situation."
He explained in the case of a foreign disease outbreak, such as foot and mouth disease, the movement of U.S. lamb would shut down for three or four days across the entire nation and even longer in an identified "core zone."
"If producers have a Secure Sheep and Wool Supply (SSWS) Plan in place, they will be more able to move livestock in this instance than if they don't," Boner said.
"Once this happens, state veterinarians will be too busy to authorize these plans, so it needs to be done ahead of time," he continued. "I strongly encourage everyone to take a day or two to really look at this, and I think it would benefit all of us to have an SSWS Plan in place."
Wool market overview
Boner shared, "As many well know, about 60 percent of our U.S. wool clip is exported annually, and a lot of this has historically gone into China for processing. We are continuing to look for other outlets in this arena, because as we continue down this path with China, there are less viable options for market."
He noted during the first two quarters of 2023, U.S. wool exports were down 17 percent from the year before.
He also noted, following a few ongoing issues resulting from COVID-19, the major fabric supplier in the U.S. military contract is finally getting back on track and up to speed.
"Upon request, ASI has also developed the American Wool Assurance Program, which is a third-party verified, annual care, best practices type of thing," explained Boner.
He further explained the program is made up of three levels.
Level one is an educational level, in which producers receive an education certificate, and level two is a processes-verified level with second-party evaluation.
"In level three, the final level, producers receive proof of certification and there are third-party audits," Boner said. "So, this program is a way to create access to more markets."
ASI Guard Dog Fund
To conclude, Boner provided some highlights from the ASI Guard Dog Fund.
"At the urging of eight states – including Idaho, Montana and Utah – ASI asked two law firms in April of 2013 to look into impacts on lamb in the U.S. market and eventually hired one of those lawfirms to do an investigation on dumping and countervailing violations to Australia and New Zealand," he shared.
Boner explained through these investigations, it was determined there was a low level of dumping, with a maximum of one to two percent dumping margins.
"ASI made the determination a one to two percent dumping margin would not impact the amount of lamb coming into this country, so we decided not to move forward with those two cases at this point in time," he said. "However, ASI will continue to monitor the situation."
Hannah Bugas is the managing editor of the Wyoming Livestock Roundup. Send comments on this article to roundup@wylr.net.