Fall Calving Feed Considerations: Feed supplementation programs benefit fall-calving herds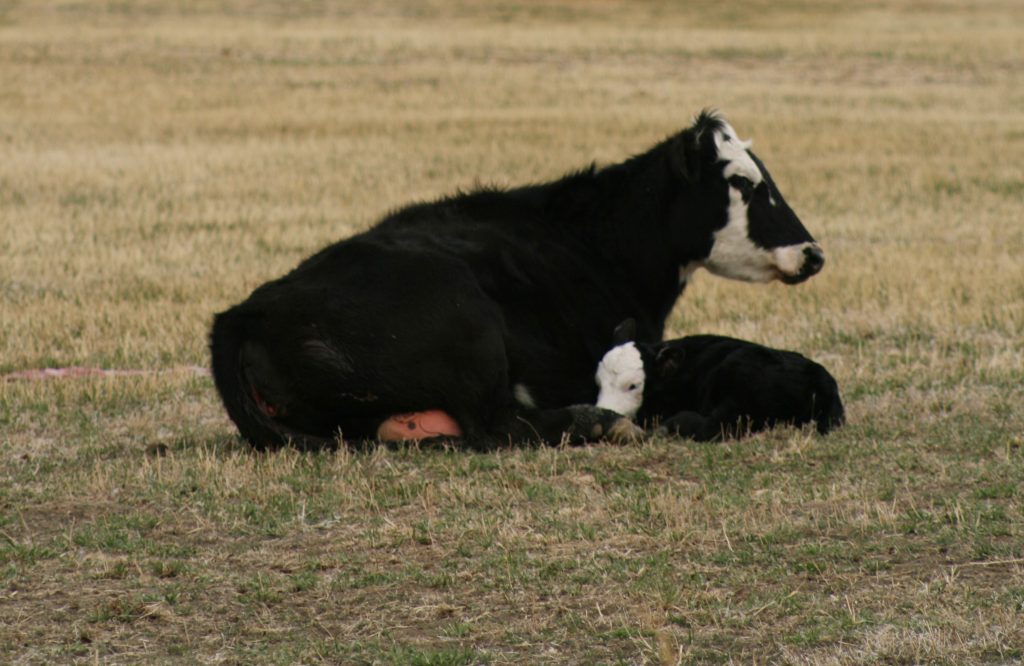 As seasons change and forage quality begins to decline, feeding programs for fall-calving herds may require supplementation.
Oklahoma State University (OSU) Extension Beef Cattle Specialist Dave Lalman discussed protein supplementation for cow/calf pairs in late summer during the Aug. 23 episode of SUNUP, a production of the Division of Agricultural Sciences and Natural Resources at OSU.
"On average, nearly 40 percent of total operating costs in a cow/calf operation are associated with nutrition because purchased and harvested hay and concentrate feeds make up the majority of the cost," OSU research concludes.
"Nutritional programs are areas of cost that can be reduced. However, the nutritional status of the cow is closely related to reproductive performance, and if too many corners are cut in the nutritional program, pregnancy and calving rate dramatically suffer," OSU continues.
Protein deficiency may occur
The nutritional value of forage rapidly decreases as seasons change, leading to protein supplementation, which is vital for fall-calving herds.
Lalman states, "The average lactating beef cow needs 10 to 11 percent crude protein to maintain adequate body condition, but native grass at this time of the year may only offer roughly six percent crude protein."
"A cow grazing during late summer to early fall on native rangeland needs an average of 3.3 pounds of protein per day but may only receive half of this due to low forage quality," he continues. "Without supplementation, a protein deficiency can occur and cause weight loss."
"A protein deficient cow on native rangeland requires 7.5 pounds of 20 percent cubes per day to fill the protein gap, raising input costs for producers, but if fed a 38 percent protein product, she will only need four pounds to correct the 1.5-pound protein deficiency," he adds. "There's a lot of moving targets when it comes to making efficient supplementation decisions this time of year."
The amount of supplementation varies, but changing the fall-calving herds' forage types and providing supplementation will improve herd health.
Lalman suggests observing cows' feces, and if fecal patties start to stack up, this could signal a potential protein deficiency within the herd.
He also advises establishing a supplementation program before the cows present with condition loss, and if protein deficiency is managed while there is abundant forage, higher digestibility rates can occur.
Protein supplementations strategies
Cows will need protein supplementation – protein tubs or liquid supplements – to carry them through late summer as grasses begin to dry and herds transition to fall feeding.
According to the North Dakota State University (NDSU) Extension Center, if producers are planning to utilize low-quality forage in their winter feeding program, protein supplementation is required to maintain cow productivity, ensure healthy calves at calving and help cows return to estrous quickly.
The NDSU Extension website notes producers can utilize a variety of protein supplements, including alfalfa hay, oilseed meals and grain processing byproducts. Still, the choice depends on cost, availability and accessibility.
NDSU research states, "The purpose of protein supplements is to first provide a nutrient source for the rumen microorganisms and second to provide nutrients for the cow, as the rumen bacteria need rumen-degradable protein to efficiently ferment the fiber in dormant forages and provide the cow with energy, protein and other nutrients."
However, other research data from across the country indicates protein supplements do not need to be fed daily, but several studies show they can be offered once a week with similar performance to supplements provided daily.
In addition, many commercial self-fed products are available, which can be used to cut down on supplement delivery costs. These self-fed products are beneficial in situations where pastures prohibit frequent visits. Self-fed products can be used to improve pasture utilization and draw cattle into areas where terrain or other limitations might otherwise reduce utilization.
OSU research notes, "Alfalfa hay and alfalfa pellets are excellent supplements for moderate- to low-quality roughage growing programs, and alfalfa is known to have favorable effects on rumen fermentation, although it is often overlooked as an ingredient or stand-alone supplement."
Studies at Kansas State University show alfalfa is equal to mixtures of grain and soybean meal containing the same percentage of protein when used to supplement roughages.
"More energy is necessary when weather conditions are wet and cold, persisting for long periods of time. Therefore, when feeding higher daily amounts of a moderate-protein supplement when these conditions exist, cows tend to lose weight and condition rapidly," advises the OSU Extension office.
Thus, protein supplements may be needed this fall and winter, but consulting with a local Extension office for more information can help producers make an informed and cost-effective protein supplementation decision.
Melissa Anderson is the editor of the Wyoming Livestock Roundup. Send comments on this article to roundup@wylr.net.