The Annual Glenrock Sheepherders Rendezvous keeps traditions alive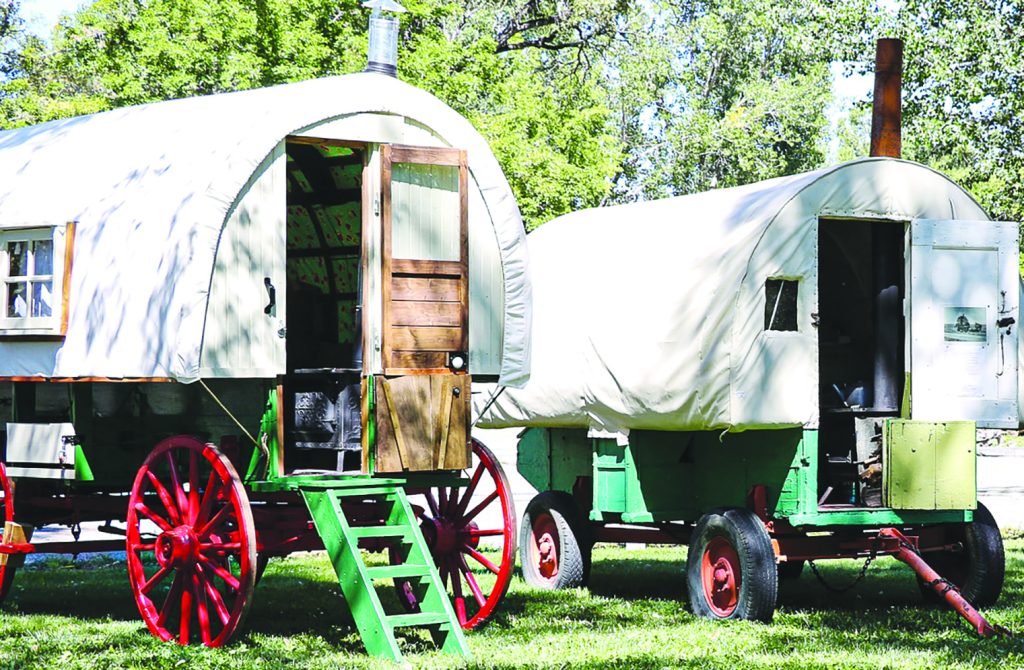 The small town of Glenrock is continuing to keep the West alive with tradition as sheep wagons rolled in on Aug. 25-27 to celebrate the Sixth Annual Sheepherders Rendezvous. Families gathered at the town park to honor the state's rich agricultural history etched by the sheep industry.
The weekend was packed full of iconic sheep wagons, music, food, demonstrations and a look back into pioneering history, all while paying tribute to sheepherders and their lifestyle.
Once upon a time, sheep wagons filled Wyoming's rural areas. Now, sheep wagons are either restored to their natural state, become works of art or are modernized so others can enjoy the iconic experience.
Rita Redig, a member of the event's organizing committee, stated, "Our goal is to celebrate Wyoming's sheep industry and keep the sheepherding heritage alive. It's all about the sheep wagons. There are 18 wagons here this weekend to help commemorate our history."
Included in the display of wagons were two chuck wagons and one shepherd's hut for attendees to view.
Rhonda Dilts, another member of the organizing committee, coordinated the Dutch oven competition, where competitors cook either a savory or sweet dish over an open flame.
Life in a sheep wagon
In the late 19th century, flockmasters introduced sheep to Wyoming, creating the need for shepherds to have a functional shelter.
While traveling across Wyoming's vast terrain and living the nomadic lifestyle, sheepherders tended to large flocks of grazing sheep while making their home in a sheep wagon.
According to the Historical Marker Database, the first authentic sheep wagon was built in Wyoming in 1884, which a team of horses could pull.
For months on end, sheepherders lived a solitary life, allowing sheep to graze on green mountain meadows in the summer before moving to the valley during harsh winters.
Needing a mobile shelter to keep dry, sheep wagons were constructed to be tiny, rugged homes, outfitted with a window above a small bunk and a cooking area with a heat source.
2023 event
The trip back into Wyoming's history began as canvas-covered sheep wagons started setting up, and the crowd was entertained by an enjoyable concert to kick off the weekend.
Sheepherders have used herding dogs to move, manage and protect their flocks for centuries, and on the second day of the celebration, families witnessed this tradition at the Dick Grabow Memorial Dog Trial.
Spectators watched as handlers used a series of commands through whistles and calls to maneuver their herding dog as they moved a handful of sheep through several obstacles and then assisted loading the flock onto a trailer.
This was a timed event, judged on the accuracy of the dog's work under the guidance of the handler.
The crowd cheered and clapped for the competitors.
In fifth place was Kristine Mulligan and her companion Dika and in fourth place was Shane Christian and Meg.
Charles Jarrard and Queen placed third, with Wendy Auzqui and Quirt coming in second. Taking home the win was Blaine Morgan and Gus.
"He's perfect," Morgan said of Gus, his 17-month-old pup. "Gus is so willing to please, and we both love all of the good people here at these events. It keeps us competing."
If attendees were not cheering on competitors at the dog trial or the youth dog agility event, they could visit the general store and purchase a 2023 Sheepherders Rendezvous postcard, then have it stamped and hand-delivered to the local post office by the Pony Express team.
Additional pioneering entertainment options for families to enjoy included a yak, alpaca and spinning and weaving demonstrations, along with a blacksmith forging iron in a historic blacksmith shop.
The special event concluded with gospel music and Cowboy Church before visitors hit the trail home, recollecting on Wyoming's pioneering past.
Melissa Anderson is the editor of the Wyoming Livestock Roundup. Send comments on this article to roundup@wylr.net.