Honoring Ag Excellence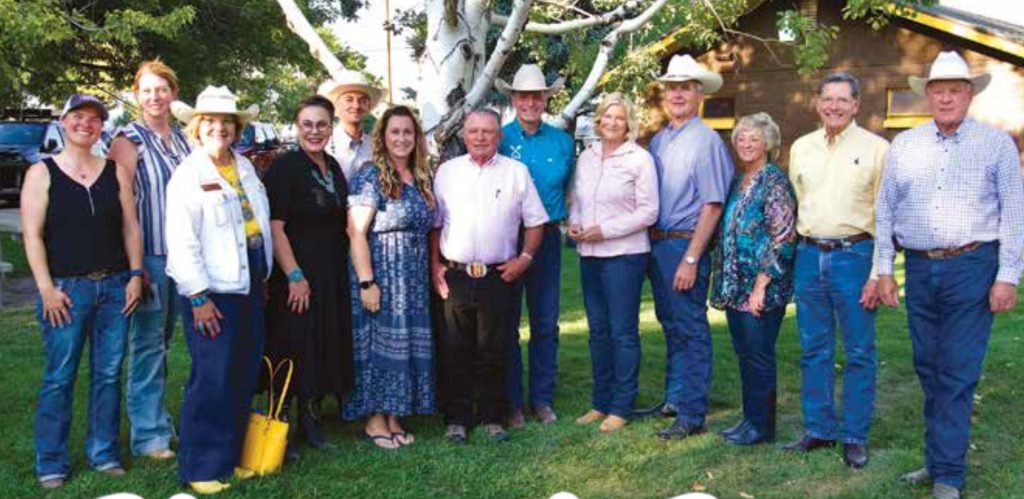 Annual Wyoming Agriculture HOF Awards Picnic recognizes leaders in ag
Douglas – Farm Credit Services of America; Clark and Associates Land Brokers, LLC; the University of Wyoming (UW) College of Agriculture, Life Science and Natural Resources (CALSNR) and the Wyoming Livestock Roundup hosted their annual Wyoming Agriculture Hall of Fame (HOF) Awards Picnic to recognize leaders in Wyoming agriculture on Aug. 16 at Riverside Park.
Those recognized during the event included Wyoming Ag HOF inductees Jon and Dianne Kirkbride of Cheyenne and Ron Cunningham of Lander, as well as the Wyoming Agriculture in the Classroom (WAIC) 2023 Educator of the Year Jamie Keisel.
Also in attendance were U.S. Sens. Cynthia Lummis and John Barrassso (both R-WY), Gov. Mark Gordon, Congresswoman Harriet Hageman, University of Wyoming President Ed Seidel, UW CALSNR Dean Barbara Rasco and over 100 affiliates of the Wyoming ag industry.
"The Ag HOF picnic is one of my favorite events and is always the highlight of my year," stated Rasco. "This year is especially gratifying to us at UW CALSNR because we have the opportunity to celebrate the induction of UW alums. These individuals clearly embody the exceptionalism, personal initiative and lifelong commitment to serving Wyoming agriculture."
Unmatched passion
To kick off the ceremony, Lummis and Barrasso ascended the stage to honor the Wyoming Agriculture HOF inductees.
In recognition of the Kirkbrides, Barrasso read from the Congressional Record.
"Jon and Dianne have been devoted to each other and agriculture for over five decades," he stated. "They have been married for 55 years while also running a multi-operational ranch – the Harding and Kirkbride Livestock Company, located 32 miles outside of Cheyenne."
Barrasso noted Dianne has devoted decades of her time and effort to the beef industry, her community and Wyoming youth by serving as president of Wyoming CattleWomen, as a field representative of former Sen. Mike Enzi for 20 years, on the Cheyenne Regional Medical Board of Trustees, the Laramie County Community College Foundation Board and the Congressional Award Council, just to name a few.
Meanwhile, Jon runs the ranch while also contributing to the beef industry and Wyoming education on a local, state and national level.
Jon served as president of the Wyoming Stock Growers Association, state director of the U.S. Meat Export Federation and president of the Wyoming School Board Association, as well as on the Laramie County School District #2 Board of Trustees and Wyoming State Board of Education.
Jon also served his country in the U.S. Air Force.
"Together, Jon and Dianne have garnered an impressive list of accomplishments," stated Barrasso. "Jon and Dianne's unmatched passion for family, Wyoming agriculture, wildlife, animal conservation and cultivating partnerships makes them an outstanding choice for the Wyoming Agriculture HOF."
"Wyoming is a family knit together by agriculture, which is what Jon and Dianne have done their whole lives, and we are grateful to both of them for everything they have done for Wyoming and Wyoming agriculture," commented Lummis.
In acceptance of their award, Dianne said, "What a blessing it is to be here today. We can't thank you enough for this honor. It is a blessing to be a part of the ag industry in Wyoming, and we are proud to be here today."
"When I look at the list of past honorees, I feel very humble," Jon added. "There are some wonderful people, and it is an honor to be recognized."
Unwavering service
Lummis then welcomed Cunningham to the stage.
"Ron found his passion for the industry while growing up on a farm near Pavillion. He then received an associate degree from Casper College and was recognized as the top ag student in 1967," Lummis noted. "From here, he transferred to UW and competed on the meat judging team while pursuing a bachelor's degree in ag education."
After graduation, Cunningham moved to Gordon, Neb. to teach ag at Gordon High School, then to Riverton to work for the local weed and pest district, before finally moving into a position at UW Extension, where he served for 38 years.
During his years of service, Cunningham provided agricultural education programs across the state including Fremont County Farm and Ranch Days; the Profitability Conference, now called the Progressive Ranchers Forum and the Regional Beef Artificial Insemination School.
Additionally, he served on two Coordinated Resource Management Projects, worked with the Wyoming Beef Cattle Improvement Association Bull Test and Sale and actively organized numerous 4-H and FFA programs
"Ron, we are delighted to recognize you as one of this year's honorees," Lummis stated. "Congratulations."
"It is a shock and an honor to receive this," commented Cunningham while accepting his award. "I want to thank my wife for all of her years of support, my daughter Amanda, my son-in-law Clyde, my grandson Colby and my good friends Jim Gill, Jim Debree and Kelly Crane."
Undeniable impact
Following the Ag HOF award presentation, WAIC Executive Director Andrew Joannides announced the rebranding of the former Wyoming Stewardship Project and introduced Hageman, who helped recognize Jamie Keisel as the 2023 WAIC Educator of the Year.
"WAIC provides a curriculum for elementary students around the three major revenue generating sectors in the state – agriculture; oil, gas and minerals and recreation and tourism," Joannides said.
"Today is a big day for this curriculum. When it was launched in 2019, it was named the Wyoming Stewardship Project. As of today, nothing about the curriculum has changed, but we have renamed it Wyo Wonders," he added. "It is a colorful, creative and energetic brand that we hope children are able to remember and teachers are able to spell out on their educational journeys."
Joannides continued, "However, we are not here tonight because of the curriculum, we are here to honor our 2023 WAIC Educator of the Year, and this individual has played a pivotal role in implementing and teaching our curriculum in Greybull."
Hageman commented, "One of the things I am most proud of is that I am a product of Wyoming's education system. I am where I am today because of my education in Wyoming and more specifically because of the teachers who instilled in me a sense of responsibility, which we see in our ag communities. I am incredibly honored to present the 2023 WAIC Educator of the Year Award to Jamie Keisel."
Following the acceptance of her award, Keisel said, "I enjoy this curriculum very much. It is easy to teach. I am always learning something new, and people are really supportive."
Hannah Bugas is the managing editor of the Wyoming Livestock Roundup. Send comments on this article to roundup@wylr.net.