Farm Bill Priorities : Wyoming senators host roundtable to gather input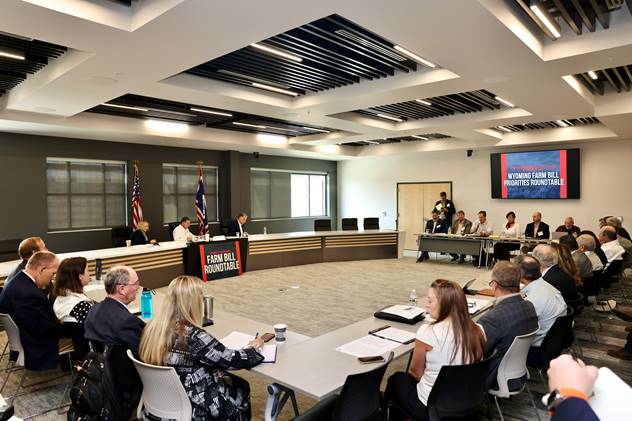 Casper – U.S. Sens. John Barrasso (R-WY) and Cynthia Lummis (R-WY) hosted a Wyoming Farm Bill Priorities Roundtable on July 14 with Sen. John Boozman (R-AR). Boozman is the top Republican on the Senate Committee on Agriculture, Nutrition and Forestry and a primary author of the upcoming farm bill.
Wyoming State Legislature members and representatives from Wyoming's agriculture industry joined the senators to discuss the farm bill and its impacts on Wyoming.
The current farm bill expires in September 2023, and over the past year, lawmakers on the U.S. House and Senate Agriculture committees have been drafting a new federal farm bill which will impact farm, conservation, food and nutrition programs across the U.S. for the next five years.
Farm bill history
The farm bill is a legislation package passed every five years, impacting farming livelihoods, how food is grown and what foods are grown.
According to the National Sustainable Agriculture Coalition, the bill covers programs ranging from crop insurance for farmers to healthy food access for low-income families and from beginning farmer training to support for sustainable farming practices.
The farm bill sets the stage for the nation's food and farm systems.
This historical legislative support system, intended to provide economic stability for farmers and ranchers, originated as part of President Franklin Delano Roosevelt's New Deal legislation.
The first farm bill was introduced in 1933, focusing on commodity price support, providing relief for farmers and ensuring a steady domestic food supply for Americans during the Great Depression.
The bill, which began nearly 90 years ago as agricultural support, now has impacts far beyond the farm, including programs to create wildlife habitat and address climate change and the nation's largest federal nutrition program.
Since the bill began, lawmakers have passed 18 farm bills and expanded the reach of the legislation. In 1985, Congress added a conservation section to the farm bill, and in 2002, added an energy title.
Each farm bill has a unique title, and the most recent farm bill – the Agriculture Improvement Act of 2018 – has 12 titles, which include programs for commodity crops, nutrition, trade, crop insurance, forestry and rural development.
Showing support
"It is important to get out of Washington, D.C. and visit with stakeholders as we move forward with the farm bill process. I appreciate the invitation from Sens. Barrasso and Lummis to join them in Wyoming to hear from their farmers and ranchers who utilize vital farm bill programs," said Boozman.
Barrasso noted, "As Congress debates the new farm bill, I wanted to bring one of the key authors of the bill, Sen. Boozman, to Wyoming so he could hear directly from the people who provide food and fiber to our nation. I look forward to continuing my work with Sens. Lummis and Boozman and agriculture groups across the state to ensure Wyoming's priorities are front and center."
"The farm bill is critically important for Wyoming ranchers, and I was thrilled to host Senate Agriculture Committee Ranking Member John Boozman in Casper so he could see firsthand the unique needs Wyoming producers face," said Lummis.
"Sen. Barrasso and I are committed to ensuring Wyoming is well represented in the farm bill and will continue to work with Sen. Boozman to ensure Wyoming priorities are not forgotten," stated Lummis.
Roundtable discussion
The roundtable discussion began with Wyoming Stock Growers Association Executive Vice President Jim Magagna discussing obstacles Wyoming faces.
"The price of agricultural land has risen tremendously over the years, and the current farm bill loan programs are not designed to help. They are no longer meaningful," he stated.
Magagna continued, "Programs to help bring young people into the farming and ranching industry are not viable – caps need to be raised."
Boozman replied, "We are behind you 100 percent. The information for the 2018 Farm Bill is outdated, and credit programs need to be reset to reflect today's data."
"Wyoming agriculture is at the heart of our communities and is a critical part of our state's economy," said Barrasso.
As Congress begins to consider this year's farm bill, it is vital to recognize the fundamental connection between agricultural lands, water quality and resources and the future of the U.S. food chain.
Wyoming Sugar Company President and Chief Executive Officer Michael Greear stated, "The sugar industry needs to stay in place. It is critical for our country, as it is a critical food source here in the U.S., and our growers and communities depend on it."
He continued, "Loan rates have not been revised in years, and they need to be adjusted to keep producers viable year after year."
Wyoming Department of Agriculture Director Doug Miyamoto discussed issues around globalization and how global pressures impact local agriculture industries and restrict interstate commerce. The trade promotion programs of the farm bill could help these issues.
"China is out investing the U.S. in agriculture research dollars. We need to boost agricultural research as it is important to keep the U.S. as a leader in the agricultural industry," he concluded.
"When it comes to research and trade deficit, we are moving in the wrong direction. We need to move in the right direction with trade policy and ag research," Boozman stated.
Food Bank of Wyoming Executive Director Rachel Bailey reviewed topics impacting rural communities and how the farm bill offers opportunities to strengthen the food bank in Wyoming and enables the organization to improve nutrition programs.
Boozman expressed, "We are committed to food assistance and nutrition programs within the farm bill to help supplement individuals and families who simply cannot make it in today's economy."
The roundtable concluded with various discussion topics on forestry, conservation and rural development, all of which are titles within the farm bill which could see change with the new farm bill.
Following the roundtable discussion, Boozman participated in a tour of Miles Land and Livestock outside of Casper. Miles Land and Livestock Owners Chad and Jamie Harkins showed Boozman their cattle operation and highlighted some of the conservation projects they've installed throughout their ranch.
Melissa Anderson is the editor of the Wyoming Livestock Roundup. Send comments on this article to roundup@wylr.net.