Environmental Stewardship Award: Big Creek Ranch honored for land stewardship and conservation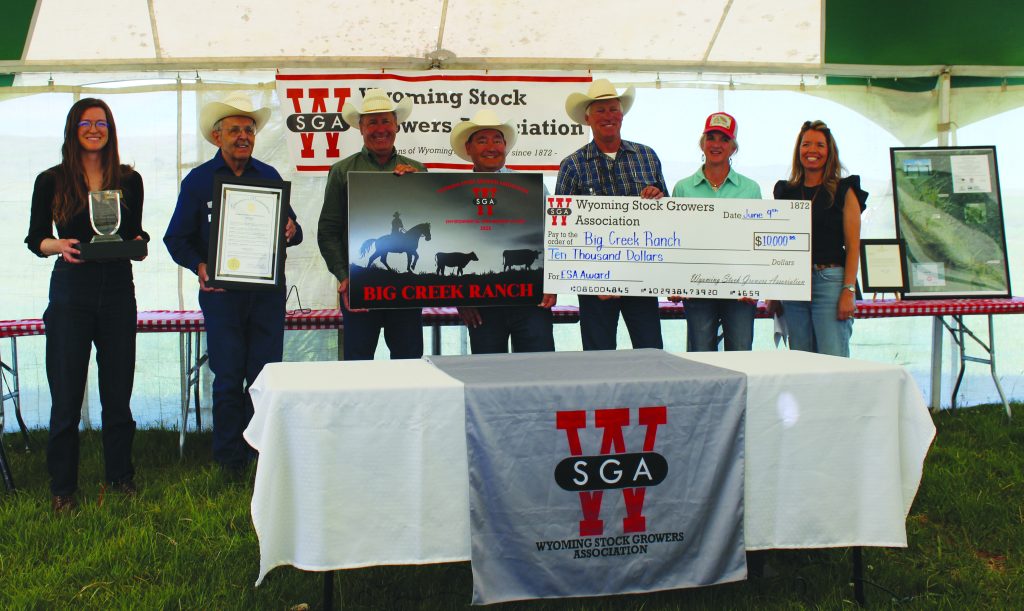 Encampment – On July 12, the Wyoming Stock Growers Association (WSGA), along with supporting organizations, friends and family, honored and congratulated Mark Dunning, his wife Suzi and the staff at Big Creek Ranch, a vast cattle ranch in Carbon County, for their hard work and dedication to wildlife and environmental conservation.
The WSGA awards a local ranch each year with the Environmental Stewardship Award. This award recognizes cattle producers in Wyoming who practice natural resource stewardship and contribute to the environment by enhancing productivity and profitability.
This year, WSGA honored Big Creek Ranch of Encampment as the Environmental Stewardship Award winner. Big Creek Ranch was established in 1878 and is owned by the Gates Family. As a second-generation ranch manager, Mark runs the cattle operation at Big Creek Ranch.
The Gates family also owns the A Bar A Ranch, a premier Wyoming guest ranch, which has been managed by the Howe family since 1984.
Big Creek Ranch has been an integral partner in managing the aquatic and terrestrial resources in the Platte River Valley for many decades.
Instilling conservation ethics and proper land management into daily operations benefits the ranch and provides healthy habitats for wildlife. The ranch's attention to detail has allowed them to properly conserve and protect wild fisheries and mule deer and pronghorn habitats on their properties.
Morning presentation
The event was emceed by C.J. Box, with WSGA Executive Vice President Jim Magagna thanking individuals for their attendance and for supporting the Dunning family and Big Creek Ranch.
Doug Miyamoto, Wyoming Department of Agriculture director, commended the Dunning family for bettering Wyoming's conservation, stating, "This is what conservation looks like in Wyoming. Big Creek Ranch can produce and preserve all in one."
Additional speakers congratulated Dunning family, including Cidney Handy, range ecologist from Audubon Rockies; Jack Berger, WSGA president and Wyoming Business Council (WBC) Agribusiness Development Manager Jill Tregemba who presented the Dunnings with the Environmental Stewardship Award.
Congressional delegation representatives were also present to congratulate the ranch.
Mark Shirley, Natural Resources Conservation Service district conservationist, discussed how Big Creek Ranch created better fisheries and artificial wetlands.
"Thank you for staying in tune and standing up for irrigators and maintaining open spaces. Mark and staff are very deserving of this award," he said.
Garrett Pantle, Saratoga-Encampment-Rawlins Conservative District resource specialist, nominated Big Creek Ranch for the stewardship award for preserving natural resources.
Pantle stated, "It's a neat area here and preserving the migration routes for numerous animals is a priority, and Mark has been involved in over 13 projects over the years to protect water sources and wildlife habitat."
To conclude the morning presentation, Dunning began by thanking his wife Suzi and everyone involved.
He continued, "We don't do these conservation projects for the awards. We do them because it's what we do as a ranch."
Dunning explained his father started the tradition as a ranch manager in 1976, and noted collaboration with agencies across state lines creates a successful ranch and landscape.
Dunning thanked his partners Justin and Lissa Howe, A Bar A ranch managers, stating, "They are involved with these conservation projects just as much as we are, and they deserve the credit as much as we do."
"We cannot do this without a good crew, and these guys are the best to work with," said Dunning.
Big Creek trout project
Following the award presentation, attendees began the Environmental Stewardship Tour with a stop at the Big Creek head gate – the location for restoring a local fishery.
Benjy Duke, assistant ranch manager at A Bar A, discussed their fish passage project on a tributary to the North Platte River, explaining, "It will make it easier for fish to move upstream to spawn without obstacles."
He continued, "The project involved installing a rock ramp to help trout and native fish species move upstream, and a strategically placed rock along the ramp provides important resting areas for fish on their way upstream."
Through the efforts of Big Creek Ranch, the Wyoming Department of Game and Fish (WGFD) and Trout Unlimited, Big Creek now provides excellent habitat for cutthroats to create the next generation of trout.
According to WGFD, it would be extremely difficult to manage wildlife in the upper North Platte River Valley without the cooperation of Big Creek Ranch and A Bar A.
Pronghorn
migration project
Burk Knowlton, assistant ranch manager at A Bar A, presented at the tour's second stop. He noted the Big Creek and A Bar A ranches are vital terrestrial wildlife habitats in the valley.
These habitats include critical ranges for mule deer, Bighorn sheep and sage grouse. The Big Creek Ranch and A Bar A joined forces on a conservation project providing habitat for pronghorns in the valley.
Howe explained, "Landscape connectivity is a key factor enabling pronghorn to move freely across the valley and survive through the seasons in rugged terrain and extreme climate conditions."
The open spaces of the ranches provide large intact landscapes, which promote freedom of movement for migrating pronghorn and other animals.
To conclude the tour, attendees gathered along the North Platte River's edge at the A Bar A and engaged in a question-and-answer session.
Visual data
Knowlton and Duke explained the ranch's fencing restoration process allows pronghorn to move freely among the ranches, but installing motion-activated cameras provided them with a deeper understanding of wildlife movement on the ranch.
"The cameras have captured far more data than ever imagined," Knowlton stated. "The cameras capture wildlife throughout the year, from eagles to Bighorn sheep, mountain lions to black bears and many other species like mule deer, pronghorn, elk and moose."
Duke noted, "The cameras have been strategically stationed in key areas across the ranches, and data has been collected over three years, identifying areas where the ranch could modify fencing, implement changes and improved wildlife habitat."
Attendees of the Environmental Stewardship Tour were fortunate to view data collected in a video created by the assistant ranch managers to demonstrate the wealth of knowledge gathered along with inspiring wildlife photos.
A sunset ending
Dunning, Howe and the team thanked everyone for supporting them on these environmental projects and expressed how important it is to work side by side in collaboration with different agencies to protect the wildlife habitat and the future of ranching.
Dunning and Howe noted learning about the environment is the first step in protecting it, and at the Big Creek and A Bar A ranches, this is what they do every day.
Dunning continued, "Conservation and stewardship practices are the foundation of the ranches, and it's our belief to do the right thing."
The tour demonstrated the Big Creek Ranch's focus on land management practices, supporting healthy ecosystems while preserving open lands and providing an environment where livestock and wildlife can coexist for generations.
Melissa Anderson is the editor of the Wyoming Livestock Roundup. Send comments on this article to roundup@wylr.net.