Deeply Devoted to Ag: Jon and Dianne Kirkbride selected as 2023 Wyoming Ag Hall of Fame inductees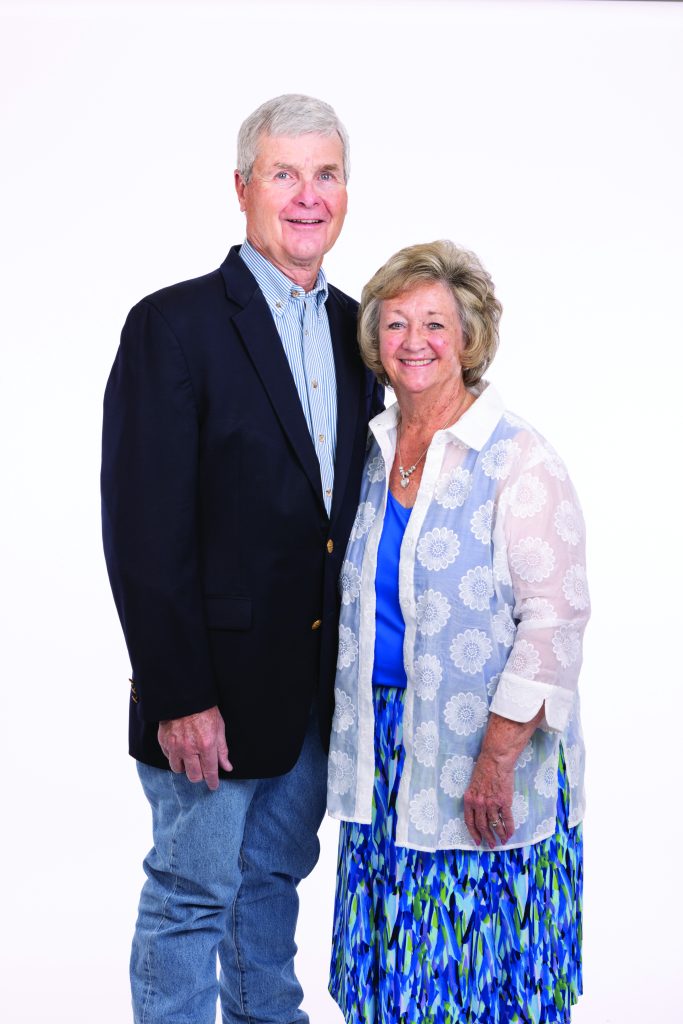 On June 26, three leaders in Wyoming agriculture were selected to join an elite list of previous honorees in the Wyoming Agriculture Hall of Fame (HOF).
Jon and Dianne Kirkbride of Cheyenne, alongside Ron Cunningham of Lander, will be recognized for their lifetimes of dedication to the state's agriculture industry during the Wyoming Agriculture HOF Picnic on Aug. 16 in Douglas during the week of Wyoming State Fair.
Leaders in Wyoming agriculture
For over five decades, Jon and Dianne have been deeply devoted to each other and the agriculture industry they have both grown so passionate about.
From running a diverse, multi-operational family ranch to selflessly serving the industry on several boards and organizations, the couple epitomizes what it means to be leaders in Wyoming agriculture.
"The 73 previous award winners represent the best of Wyoming agricultural heritage, character and service, and I believe Jon and Dianne have exemplified all of those same attributes in their 51-year careers in the ranching industry," writes Jon's brother Dan Kirkbride in a nomination letter.
"This award was made for Jon and Dianne. They've served selflessly for decades, never desiring recognition," he continues. "Married for nearly 55 years, they've ranched and raised their family with excellence, with practically no one watching."
On the ranch, Harding and Kirkbride Livestock Company, Dan notes Jon has dug into the operation's everyday workings including feeding, fencing, haying, veterinary work and overseeing water systems.
"But, it was never done casually," he states. "Jon exhibits high personal standards of discipline, decisiveness and a desire to bounce back from adversity should he ever experience it. In our many group jobs, Jon never shrunk from taking on the most demanding assignments. But, at the same time, he'd never ask someone to do a hard task he wouldn't do."
"These ideals took the shape of riding to the far corner on the roundup, putting down grandpa's old dog, wearing down a fractious horse with an extra six-mile ride home or initiating heart-to-heart talks with difficult employees," Dan adds. "Even today, he makes it a point to battle his way 32 miles out of Cheyenne to help feed in storms when an extra hand means so much."
Civil involvement
Although Dianne wasn't originally raised on a ranch, she quickly embraced the lifestyle and has since devoted decades to promoting American, and more specifically, Wyoming beef through the Wyoming CattleWomen – of which she is the past president – the Wyoming Beef Council (WBC), the Federation of Beef Councils and the American National CattleWomen.
Prior to this, Dianne worked as Sen. Mike Enzi's field representative in Cheyenne for 20 years.
"Her cheery and patient disposition greeted many a grumpy caller and made them feel like someone 'had listened to them,'" notes Dan. "She also found other important roles on the Cheyenne Regional Medical Center Board of Trustees, the Laramie County Community College Foundation Board and the Congressional Award Council, in which she served as president for six years."
Dan further notes her favorite outside effort was working with students through the Wyoming Congressional Awards Program where she mentored over 80 students in volunteer and community service projects for the past 24 years.
"It's my opportunity to encourage kids to be involved with their communities. I wouldn't give it up for anything," says Dianne. "I follow up with kids I worked with 20 years ago and find they're doing things, and it's because they got started young and understand the value of being involved."
In addition to running the ranch, Jon has also found time to contribute to the beef industry on a local, state and national level.
"The long list of Jon's activities shows his commitment to agriculture in Wyoming as well as his diverse desire to improve and support the quality of life in his community and in Wyoming public schools," writes nominators Charlie and Carol Farthing.
This long list includes serving on the Laramie County Stock Growers Association since 1972; as president of the Wyoming Stock Growers Association (WSGA); as an agriculture representative of the Wyoming Business Council; as a WSGA lobbyist to the Wyoming State Legislature; as a member of the National Cattlemen's Beef Association's (NCBA) Joint Evaluation Committee, Live Cattle Marketing Committee and Tax and Finance Committee and as Wyoming director of the U.S. Meat Export Federation.
In addition, Jon served in the U.S. Air Force and on the Wyoming Business Alliance Steering Committee; the Wyoming Taxpayers Association as vice president; as an original member of WBC; 16 years on the Laramie County School District Number Two, three of which he was chairman; as president of the Wyoming School Board Association and on the Wyoming State Board of Education.
Accomplishments
Together, Jon and Dianne have garnered an impressive list of accomplishments.
In 2010, they were both selected as the Cheyenne Regional Medical Center's Denim 'n Diamonds Honorary Chair Couple.
Jon was part of the Leadership Wyoming Class of 2003, and Dianne was part of the Leadership Wyoming Class of 2007.
Dianne was also selected as the American National CattleWomen's Woman of the Year in 2001 and the Cheyenne Frontier Days Lady-in-Waiting and Miss Frontier in 1967 and 1968, respectively.
"What this list does not show is the tireless commitment to agriculture these two have, as well as their teamwork and devotion to each other, their family and their industry," says the Farthings. "One could not be recognized separately without the other, as theirs is a bond stronger together. A truly outstanding couple, Jon and Dianne Kirkbride most certainly belong in the Wyoming Agriculture HOF."
"Jon and Dianne Kirkbride clearly exemplify the leadership in Wyoming agriculture that the Ag HOF has recognized for over 20 years," states WSGA Executive Vice President Jim Magagna. "They will be a worthy addition to the hall."
Hannah Bugas is the managing editor of the Wyoming Livestock Roundup. Send comments on this article to roundup@wylr.net.