Wyoming well represented at CNFR: Wyoming collegiate rodeo athletes to compete among best of the best in Casper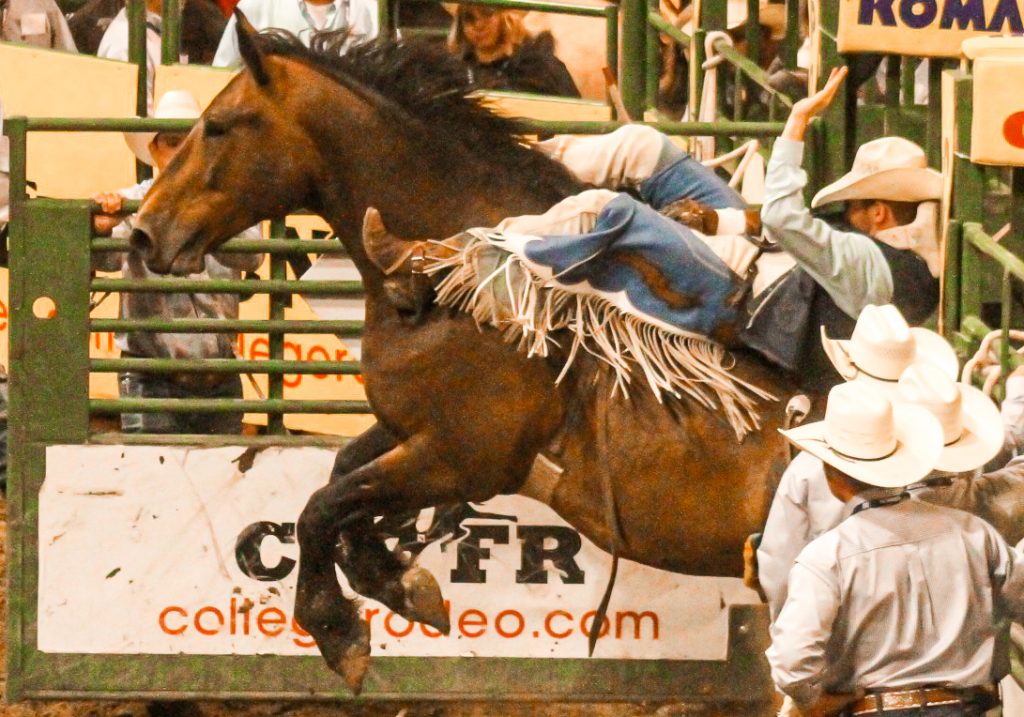 On June 11, the nation's top collegiate rodeo athletes will converge in Casper to compete in the highly competitive and esteemed College National Finals Rodeo (CNFR), held annually at the Wyoming Ford Center.
Among the exceptional athletes vying for bragging rights as a national champion are 33 athletes representing the state of Wyoming.
Wyoming women
Ten women representing four local colleges will take to the arena for three events – breakaway roping, barrel racing and goat tying.
The women's events will kick off on June 11 at the Bulls, Broncs and Breakaway Matinee at 1 p.m.
Gillette native and University of Wyoming (UW) Student Athlete Sage Kohr, Laramie County Community College's (LCCC) Payton Feyder of Elko, Nev. and Gillette College's Haiden Thompson will make an appearance at the event.
Thompson, a Yoder native and the Central Rocky Mountain Region's All Around Cowgirl, will also compete with fellow Gillette College Rodeo Teammate Staheli Adams for honors in goat tying.
Two UW Cowgirls – Kenna McNeill of Hobbs, Mont. and Faith Hoffman of Kiowa, Colo. – will make a showing in the battle for a national goat tying title as well.
Eastern Wyoming College's Karissa Rayhill of Martin, S.D. will not only compete for a goat tying national championship, she will also vie for honors in barrel racing, alongside Kohr; Gillette College's Jaycie West of Hereford, S.D.; UW's Emme Norsworthy of Thermopolis and Ellie Bard, a Sheridan native and Gillette College representative.
Rough stock rodeo athletes
Rough stock riders will make their first 2023 CNFR appearance in the Wyoming Ford Center on June 11 during the Bulls, Broncs and Breakaway event as well.
Saddle bronc riders representing the Cowboy State include two Sheridan College athletes – Joseph Priebe of Independence, Iowa and Clancy Glenn of Parma, Idaho – as well as Casper College's James Perrin of Maple Creek, Saskatchewan, Canada.
Perrin's fellow Casper College Bronc Rider Myles Carlson of Evanston will make an appearance in the bareback riding, alongside two UW Cowboys – Donny Proffit of Kemmerer and Brice Patterson of Bozeman, Mont.
Two Canadian bull riders representing LCCC will vie for national championship honors – Dixon Tattrie of Youngstown, Alberta and Griffin Koester of Rocky Ford, Alberta – as well as Sheridan College's Pinedale native Wyatt Phelps.
Ropers and wrestlers
Eleven elite ropers from four colleges will also be joining the fight for a national champion title.
UW Cowboy and Central Rocky Mountain Region All Around Cowboy Cam Jensen of Hyannis, Neb. and Bodie Mattson of Sturgis, S.D. will make a showing in tie-down roping, alongside LCCC's Chance Derner of New Underwood, S.D.
Additionally, Mattson will compete in team roping with partner Carson Johnson of Casper College.
Four of Johnson's fellow Casper College teammates – Weston Mills of Gillette with partner Trae Smith of Montpelier, Idaho and Kolby Bradley of Big Piney with partner Braden Brost of Maple Creek, Saskatchewan, Canada – will also make an appearance in the team roping competition.
Other team ropers representing the state of Wyoming include UW's Rio Nutter of Rapid City, S.D. with partner Reece Wadhams, an LCCC athlete from Pueblo, Colo., as well as Jensen with partner Tanner McInerney, a representative of Gillette College from Alzada, Mont.
Three steer wrestlers from across the state will round out the impressive list of Wyoming student rodeo athletes participating in the 2023 CNFR.
They are LCCC's Bernard Girard of Alliance, Neb.; Central Wyoming College's Clay Reiner of Buffalo and UW's Jacob Wang of Baker, Mont.
Hannah Bugas is the managing editor of the Wyoming Livestock Roundup. Send comments on this article to roundup@wylr.net.