Celebrating Sheepherding Culture: Rockpile Museum hosts second annual Powder River Basin Sheepherders' Festival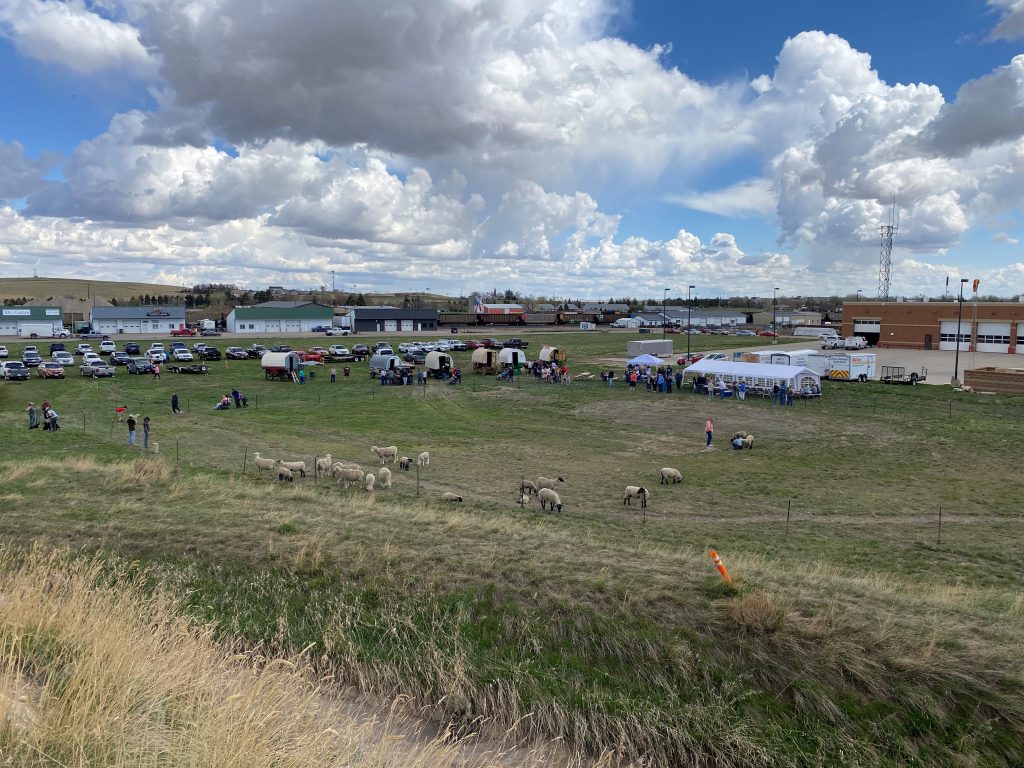 Hundreds of sheepherding enthusiasts gathered in Gillette at the Rockpile Museum for the second annual Powder River Basin Sheepherders' Festival May 5-6, which hosted a number of different activities and vendors to honor and celebrate sheepherding culture in the area.
"We really try to focus on the three cultures of sheepherders in this area – Scottish, Basque and Quechuan/Peruvian," noted Brittney Elsasser, director of Adult Programs and Community Outreach for the Rockpile Museum.
An emphasis on culture
Elsasser, who coordinated the big event, noted the inaugural Powder River Basin Sheepherders' Festival was held last spring after the former Rockpile Museum educator did some research on the vast culture of sheepherding across Wyoming.
Upon realizing how significant these cultures were to the history of the state, the festival was born.
In order to celebrate these three cultures, Elsasser explained the museum placed a focus on offering Scottish, Basque and Quechuan/Peruvian activities and vendors during the festival.
"To honor the Scottish, we had the Billings Caledonian Pipes and Drums – a band out of Montana – come and play some proper Scottish music from the highlands," she shared. "For the Basque, we hosted David Romtvedt, a Basque storyteller. He played some musical instruments and described the Basque culture and how they came to be in Wyoming."
"We also included the Big Horn Basque Club. They brought in a Basque dancer to showcase traditional Basque dancing, and they made lukanka, a type of Basque sausage, which actually sold out," she continued.
In honor of the Quechuan/Peruvian sheepherders, the event hosted University of Denver's Dr. Alison Krögel, a Spanish professor with an emphasis in Quechuan studies.
Krögel provided a lecture presentation on modern-day Quechuan/Peruvian sheepherders, who play a crucial role in big sheep operations across southern Wyoming.
Elsasser noted the event also honored four-legged sheepherders throughout the state.
"Sheepdogs play a big part in how sheep are herded, so Michelle Miller came and did sheepdog demo trials to show how her Border collies are able to round up sheep without a lot of help from her," she said.
Future festivals
Although planning a busy two-day event is taxing, Elsasser said the success of this year's festival already has her excited for next year.
"I think the festival went really well. We had a great turnout – somewhere between 400 to 500 came to the event – and the weather cooperated, so I couldn't have asked for anything better," she said.
"This was just the second year of the festival, and I am confident it will continue to grow and get better every year. I will soon restart my process of looking for sheep wagons and more ways to incorporate these cultures into the event, maybe inviting food vendors from Scotland, Perue and Basque Country in Spain, just really trying to expand on them in a new way into the future," she concluded.
Hannah Bugas is the managing editor of the Wyoming Livestock Roundup. Send comments on this article to roundup@wylr.net.