Wyoming represented in Puerto Rico: AFBF convention provides new insights, policies and friendships for representativesWyoming represented in Puerto Rico: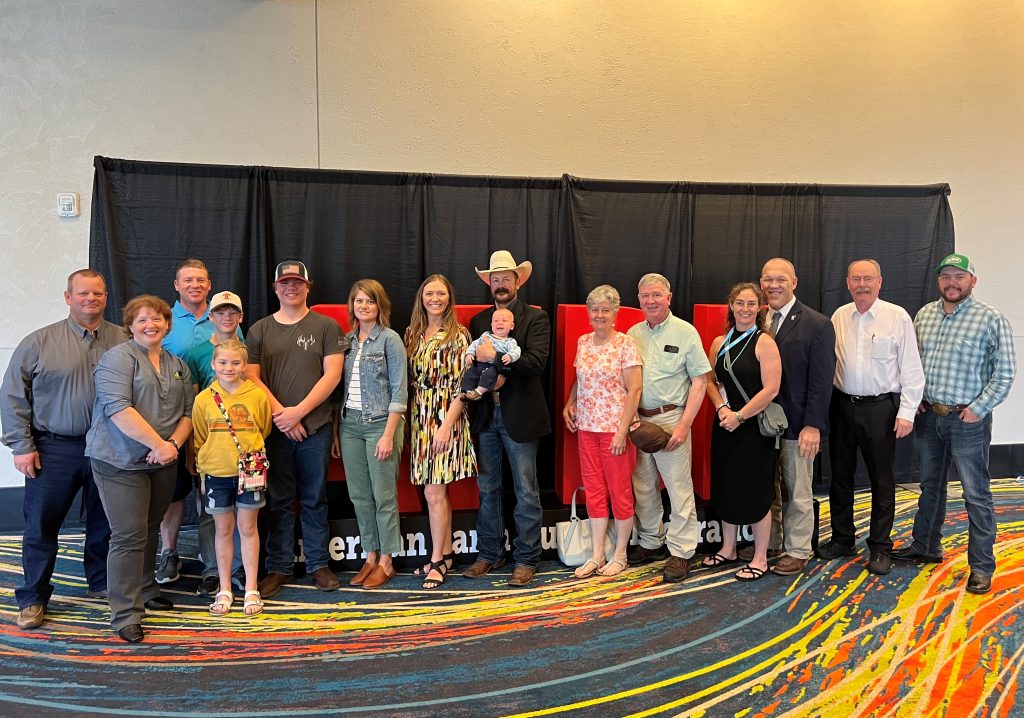 Twenty-three dedicated Wyoming Farm Bureau Federation (WyFB) members had the opportunity to expand their knowledge on agricultural issues, hear nationally acclaimed speakers and attend educational tours during the American Farm Bureau Federation (AFBF) Convention Jan. 6-11 in San Juan, Puerto Rico.
The country's largest general agricultural organization chose the tropical island for their annual meeting when invited by Puerto Rico Farm Bureau President Hector Cordero, who wanted farmers to learn about issues facing agriculture in Puerto Rico, as well as experience the friendliness of the territory.
Wyoming policies on delegate floor
The voting delegates session is the heart of AFBF, where policy introduced during annual county meetings in September progresses to the state AFBF convention, with some policies advancing to the national level.
WyFB President Todd Fornstrom and Vice President Cole Coxbill sat with other voting delegates on the floor to debate and discuss policy and issues.
"On the delegate floor, there are very passionate speeches given," said Fornstrom, adding no matter the subject, there is a lot to learn. "It's always fascinating to hear other states discuss the farm bill. I know in Wyoming and Montana, the farm bill is not as big a topic as it is in the large grain-growing states, but it's still interesting."
"There was plenty of debate about dairy issues, as well as discussion on cattle markets," he continued. "Regarding federal lands, most introduced policy gets passed since other members east of the Mississippi trust the Western farm bureaus."
Three Wyoming policies made it to the floor and passed.
These included a policy on gathering federal lands into big blocks instead of the current checkerboard including corner crossings, a policy stating decisions regarding the removal of domestic sheep grazing from federal lands must be based on sound peer-reviewed science and a policy blended with two other states regarding Environmental, Societal and Governance (ESG) standards.
WYFB president provides comments
As state president, Fornstrom's duties included meeting with the big 10 convention sponsors, which included John Deere, Case IH, Bayer, Corteva and Ford, to name a few, which sponsored well over $900,000.
Although Fornstorm opted not to run for the board this year, the president's job is to attend regional caucuses, where board members are voted on for the coming year. He said another highlight was spending time with the leadership and members in neighboring states.
Coxbill said, "I love seeing policy come from our state, where I know our members pushed policy forward to make it to the national level. I believe the greatest asset of being a farm bureau member is all farm bureau policy comes from individual members from across the country, and that's what makes farm bureau so unique and valuable for lobbying."
As for the general sessions, Coxbill said speaker Bert Jacobs, co-founder and "chief executive optimist" of the Life is Good brand, resonated with him.
"His success story, which included ups and downs, was great, and he said although it's easy to stay negative with everything we hear in the news, we need to strive to keep finding the positive," Coxbill noted.
The Torrington farmer especially enjoyed the camaraderie of the national convention.
"We have friends from 50 states and Puerto Rico, and we can stop anyone in the hall and talk to them like they are our next-door neighbor," Coxbill continued. "It doesn't matter where a producer farms or ranches – we all have the same concerns about taxes, government overregulation, labor, water and escalating land prices."
He added, "Some differences include visiting with a rancher in Yuma, Ariz., where land might be $40,000 an acre, but they can make it work with produce sales, which would never pencil out in Wyoming. Where we want to conserve and use every drop of water west of the Mississippi, farmers in the east want to drain, drain, drain."
Wyoming representatives
in attendance
Carbon County Farm Bureau Members Stacy and Kyle Berger attended the convention to gain new ideas for their county farm bureau and gather new ideas for membership recruitment and retention, as well as learn what's happening at the national level.
"Being able to go to Puerto Rico and experience what their agriculture looks like was a motivating factor," said Stacy, who serves as secretary of her county farm bureau.
Stacy said workshops were spot-on.
"One talked about consumer engagement and what Gen Z thinks about agriculture. The two younger women who presented the workshop explained how different generations communicate and what is effective and what's not," she explained. "This was very helpful when thinking about how we want to talk about our agricultural businesses and what we're portraying to the public. Sometimes we think we're communicating one message, but the consumer receives it differently."
Another workshop the Bergers attended was "What is Farm Bureau?"
"It was constructive to learn how to answer the question, ʻWhat is Farm Bureau?' They gave us a short answer – grassroots, membership, agricultural, nonprofit. Often, depending on what state we're from, when we say farm bureau, people think insurance," said Stacy.
"For us in Montana and Wyoming, this is what we get asked. If people say, 'Oh, is that the insurance company?' We can talk about how the federation created the insurance company, and that we're an agriculture organization," she added.
Stacy said she and Kyle, who serves as county president, plan to examine the worksheet they were given with their county board, so their county leaders can better understand how to talk to people.
When answering the question about what farm bureau does, Stacy said, "Farm bureau organizes farmers and ranchers at the local, state and national levels so we can serve as a voice of agriculture."
Kyle added one of the most significant reasons for a farm bureau member to attend a national convention is to address the many challenges everyone in agriculture shares.
"It's imperative we come together as a national organization and be one voice on those issues. If just the cattlemen go up against some federal governmental policy, it might adversely affect other producers who raise different commodities," he stated. "We don't need a division between people in agriculture, so being able to look at those things and how it affects all producers nationally rather than as individuals, is important."
The Bergers enjoyed a group tour of old San Juan, where they saw Bomba dancing and could wander around the historic forts and other buildings. Other farm bureau members got to experience coffee and pineapple plantations, agri-tourism venues, a rum factory and the rain forest.
Rebecca Colnar is a corresponding writer for the Wyoming Livestock Roundup. Send comments on this article to roundup@wylr.net.