Dealing with Drought: Experts discuss options for wintering livestock with limited forage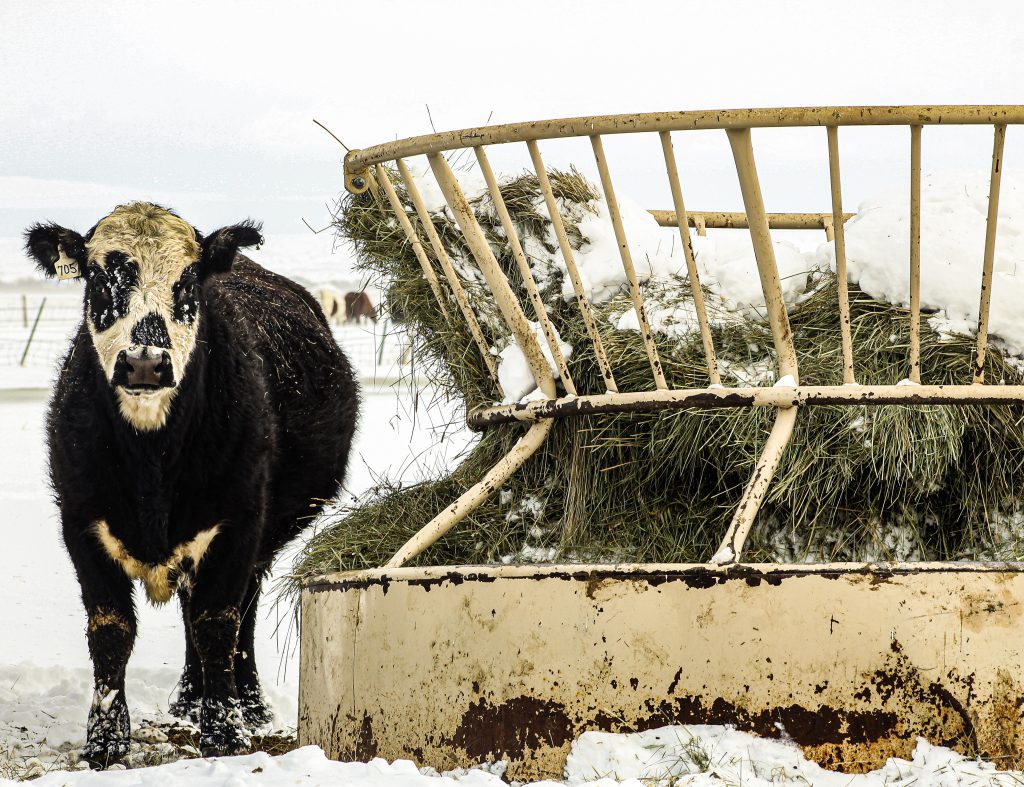 Although recent winter storms have added to snowpack percentages and provided most of the West with much needed moisture, producers are still facing the aftermath of a years-long drought. The perfect storm of previously limited precipitation, sky-high hay prices and tough winter conditions have caused many producers to worry about how they will stretch their forage through the remainder of the winter.
Additionally, drought conditions have severely depleted many hay stockpiles. According to the U.S. Department of Agriculture's Dec. 1 Hay Stock Report, total U.S. hay stocks came in at 71.9 million tons, which is 16.4 percent below the previous 10-year average and the lowest number reported on Dec. 1 since 1973.
Industry experts recognize these concerns and offer advice on how to winter livestock with limited forage.
Nutrient requirements
A common and simple piece of advice offered by experts is to sort cattle by body condition score (BCS). This way, producers can provide a more nutrient-dense diet to cattle with high nutrient demands, while providing a smaller amount of forage or a less-nutrient dense diet to cattle that simply need to maintain an adequate BCS.
This strategy reduces waste, stretches forage and is more economical.
According to Kansas State University (KSU) Beef System Specialist Jaymelynn Farney in a KSU Extension article dated Sept. 4, 2018, another way to stretch limited forage is to correctly balance the herd's diet, which can result in feeding less hay.
She notes in order to accurately develop an efficient feeding strategy, producers should consider testing their hay for a forage analysis.
Hay substitution
Farney says another thing producers may want to consider is substituting hay with high-energy, high-protein feeds and recommends cow/calf producers feed starchy options such as corn.
"Generally, we consider this a no-no for cow operations, as it can potentially inhibit voluntary forage intake," she notes. "Traditionally, grass is the cheapest commodity and the resource producers want to utilize to the greatest extent. However, in limited forage situations, cost per unit of energy may favor the use of corn or other high-energy feeds."
Farney warns producers there are some effects in doing so, nodding to reports which show feeding corn to cows at less than 0.3 percent of body weight will have limited impact on voluntary hay intake and fiber digestion.
"Offering corn at levels greater than this can result in reductions in fiber digestion and hay intake. At certain proportions, adding corn to the diet could actually reduce total energy intake," she says.
However, Farney also says Extension and nutrition professionals can help producers develop a feeding program to determine how much corn and how much harvested forage should be offered to meet performance objectives to avoid these issues.
She also notes high-energy, high-protein byproduct feeds may be preferred because they reduce bloat and acidosis potential since starch has been removed.
Limit feeding
A third option provided by Farney is to feed nutrient-dense diets to cows, especially if producers limit the total amount offered to meet but not exceed requirements.
"Typically, cows on a high-quality forage can easily consume 2.5 percent of body weight on a dry matter basis daily. If cows are in good flesh prior to the start of feeding, the goal would be to maintain, not gain, weight," she explains. "Thus, feeding a primarily silage ration at 1.8 percent of body weight could meet cow requirements while extending feed resources."
Farney shares studies have shown limiting access to hay for a set number of hours a day leads to less hay consumption while maintaining the same BCS as cows with free-choice access.
During the Rancher Lunchtime Webinar Series hosted by Oklahoma State University (OSU) Extension, Atoka County Extension Educator Harold Stephens says many ranchers in his area have seen a lot of success with this, including himself during the drought of 2011.
"I had a small set of cows here in the county, and it was a pretty rough year. In addition to the drought, we had a tornado touch down, and it took out our house and our barn. We didn't have any hay, and we couldn't find any," he shares. "Even though I was a small producer, I had some genetics I didn't want to get rid of, so I started digging into how I was going to keep my herd."
Stephens landed on limit-access feeding in order to try and stretch the small amount of forage he did have so he could keep his cows through the winter. He explained every night when he got home from work, he would open a gate from the pasture where his cows stayed to a lot with two round bale feeders full of hay.
"I would sit in my pickup and wait while they ate for 45 minutes," he says. "Then, I would take a few five-gallon buckets filled with concentrate feed and dump them in troughs back out in the pasture. The cows would come running when they heard the feed. I would close the gate, head back home, and then go out and do the same thing the next day."
Stephens points out there are a few things producers need to consider if they are thinking about this option.
First, in order to limit-access feed, Stephens says producers need to provide hay to cattle in a separate area than they are kept, and they need to have enough room for all cows to eat at one time.
It is also important cows are fed at the same time every day to limit digestive issues. Cows should be fed hay first to ensure adequate nutrient intake, and producers need to keep an eye out for acidosis, bloat and founder.
"Fences also need to be in good shape, because producers are not going to have happy cows. They are going to be gaunt and dried up compared to cows they are used to seeing with a lot of rumen fill," Stephens notes. "This feeding strategy also requires more labor, time and management skill."
As far as timing goes, Stephens says producers need to base the amount of time cows have access to hay on the amount of feed they need to maintain BCS. He notes 45 minutes equates to six to 10 pounds consumed per cow, three hours equates to 17 to 18 pounds, six hours equates to 20 to 21 pounds, nine hours equates to 22 to 23 pounds and 14 hours equates to 24 to 26 pounds.
Ionophore use
The last tip Farney mentions is to use ionophores, a feed antibiotic which alters rumen microbes to generate higher energy metabolites to the animal.
Ionophores do not require a veterinary feed directive.
She notes improvement in efficiency using ionophores has been demonstrated by research from OSU where cows maintained the same body condition on 10 percent less hay when consuming an ionophore as compared to cows that did not receive the ionophore.
"Ionophores are cheap – roughly $0.02 per head per day – and improve feed efficiency. At this time there is only one ionophore approved for use in the reproducing cow – Rumensin," Farney states.
Other recommendations Farney and other experts suggest for wintering cattle with limited forage include using efficient hay feeders to reduce waste, pregnancy checking and sorting or culling open cows, grazing crop residues when available, making strategic culling decisions and taking advantage of knowledge from local Extension and nutrition specialists.
Hannah Bugas is the managing editor for the Wyoming Livestock Roundup. Send comments on this article to roundup@wylr.net.