Frigid temps affect fertility: Extreme cold can impact bull fertility and future breeding season success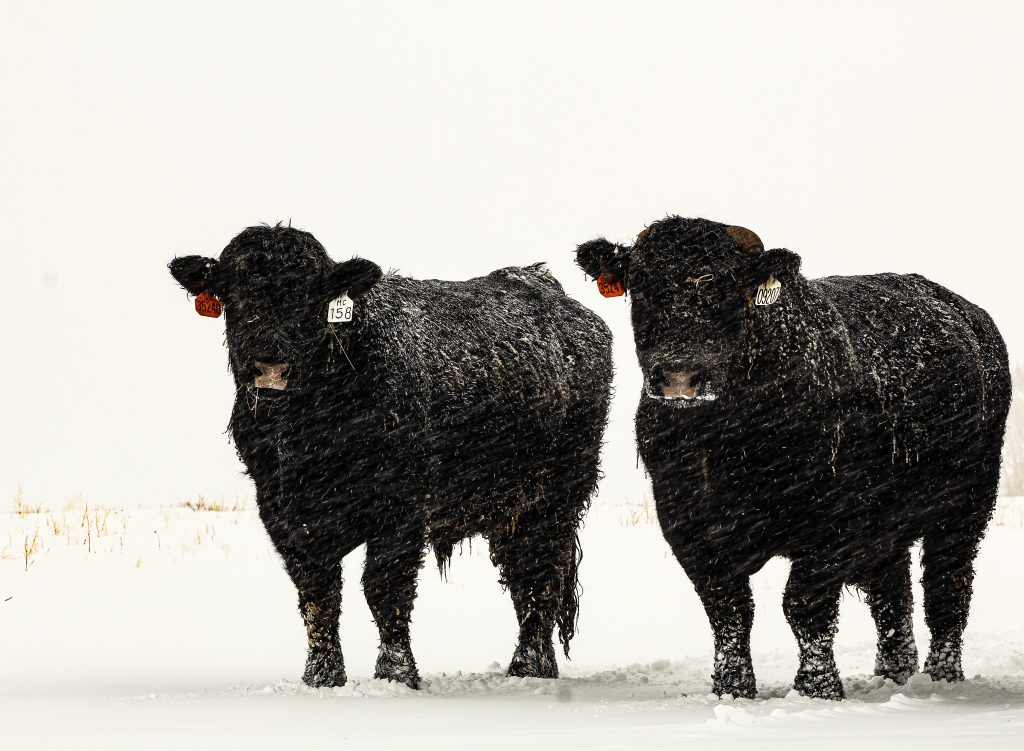 For many beef producers, frigid temperatures and blizzard conditions are always a cause for concern during winter months. Since many cattle on spring-calving operations are nearing the end of their second trimester, the well-being of the cow herd usually takes highest priority during this time.
Although caring for the cow herd and ensuring nutritional needs are met are important, several industry experts remind producers it is critical to also place high priority on herd bulls – which are generally kept separate and may experience equal hardship through winter months, especially if proper nutrition and shelter are neglected.
"The future reproductive success of the herd will suffer if herd bulls are not prepared for or protected from winter weather," notes North Dakota State University (NDSU) Vice President of Agricultural Affairs Gregory Lardy in a NDSU publication titled "Cold Exposure and Bull Fertility."
"Anytime there is an extreme temperature change, bulls can have a period of subfertility, especially if they lack good nutrition or protection from the environment," states Lew Strickland, University of Tennessee Extension veterinarian and associate professor of animal science, in a Progressive Farmer article written by Progressive Farmer Senior Editor Victoria Myers.
Frostbite
According to experts, the largest threat to a bull's fertility during winter months is frostbite.
"During normal winter conditions, frostbite is not a common problem with breeding bulls, but prolonged exposure to extreme cold and wind increases the incidence of frostbite and is a problem that must be considered when planning for the breeding season," Lardy says.
He further explains lack of wind protection and bedding increases the chance of frostbite to the scrotum and testicles, and frostbite to the scrotum is usually apparent in the form of noticeable inflammation and swelling a few days after freezing.
"Heat generated from inflammation directly affects maturing sperm stored in the epididymis, which surrounds the testicle at the lower end of the scrotum. The resulting damage may cause temporary, or in more severe cases, permanent sterility in the bull," Lardy says.
Lardy also notes a scab may appear on the lower portion of the scrotum as healing occurs. However, the absence of a scab does not mean frostbite did not occur.
In an interview with KWCH 12 News, Dr. AJ Tarpoff, Kansas State University Extension veterinarian and assistant professor of animal science, explains severe frost damage to the testicle and epididymis may cause another issue as well.
"When bulls experience frostbite on the scrotum itself, tissue adhesions may occur, which affect mobility and circulation within the scrotum," says Tarpoff.
According to Lardy, evaluation of possible frostbite damage is best accomplished by a trained veterinarian when performing a breeding soundness examination (BSE) 45 to 60 days after the injury occurred.
"A semen evaluation performed earlier than this period of time will most likely indicate poor semen quality and could result in unnecessary culling of a bull, which may produce satisfactory semen after healing has occurred," he says. "An examination normally includes a physical evaluation of the entire reproductive tract including the testicles and epididymis, as well as a microscopic semen evaluation recording sperm motility and morphology."
Other illness caused
by the cold
According to Strickland, fast-changing weather patterns and extreme temperature swings can lead to other illnesses, which may affect fertility in herd bulls.
He notes a bull with a fever or pneumonia during winter months may not recover in time to breed by January for fall-calving operations.
"When we go from 60 degrees Fahrenheit one day to 30 degrees Fahrenheit the next, a bull can develop pneumonia," Strickland says. "If he runs a temperature, it elevates body temperature, which can interfere with spermatogenesis."
Once a bull's body temperature gets to 102 degrees Fahrenheit or higher, stress also becomes an issue, which has an impact on fertility, he notes.
Preventative measures
In order to prevent frostbite and other cold-weather induced illnesses, experts agree bulls should start the winter season with a BCS of five or six and maintain this condition, which is ideal for breeding season.
"Low temperatures and windy conditions can easily increase feed requirements 25 to 30 percent above normal maintenance requirements," explains Lardy.
Additionally, Strickland notes it takes a bull at least 60 days to make a new set of spermatozoa, so it is important producers schedule a BSE at least 60 days before the start of their breeding season.
"Having a BSE at this point prior to breeding season gives bulls time to recover and get rechecked. This will also give producers time to find replacement bulls if necessary, without significantly affecting breeding season," says Strickland.
Tarpoff believes the best way to prevent frostbite and other cold-weather induced illnesses is to simply take a look at feed, water and bedding.
"First, check to make sure water is OK. Then check to make sure feed is OK," Tarpoff says. "After we have those two key concepts taken care of, we can try to increase the comfort of our animals the best we can."
He adds, "We can't forget about the frozen ground, which can really cause some frostbite issues. Heavy bedding goes a long way, whether it's straw bedding, cornstalks or any other types of bedding available to producers."
Hannah Bugas is the managing editor of the Wyoming Livestock Roundup. Send comments on this article to roundup@wylr.net.