Wyoming Rendezvous: PLC and NCBA director shares Washington, D.C. updates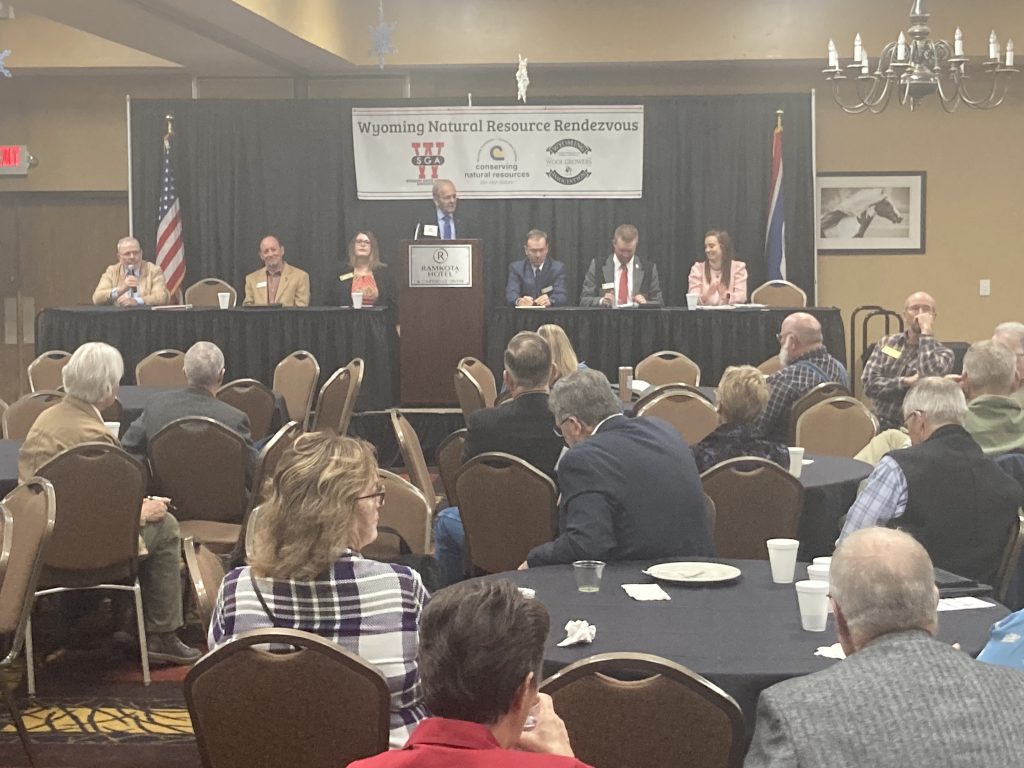 During the Wyoming Natural Resource Rendezvous Convention and Trade Show at the Ramkota Hotel in Casper Dec. 5-8, Public Lands Council (PLC) and National Cattlemen's Beef Association (NCBA) Natural Resources Associate Director Sigrid Johannes provided several Washington, D.C. a impacting the ag industry.
"PLC is the only organization in Washington, D.C. solely focused on advocating for federal grazing permittees," shared Johannes.
Administration and federal agency focus
One of the organization's key focuses with the Biden administration this fall and winter is getting memorandums of understanding (MOUs) with federal agencies renewed and signed.
In a recent publication of the Wyoming Livestock Roundup, PLC and the U.S. Department of Agriculture's Forest Service (USFS) announced on Nov. 28 they have signed a MOU in regards to National Forest System grazing allotments, which will stay in effect until January 2027.
Johannes noted they expect to have the MOU with the Bureau of Land Management (BLM) signed by the end of 2022.
"We have some pretty important changes compared to the last time we went through this process," she noted. "One change we secured was any range monitoring done by permittees is going to be accepted as a legitimate source of monitoring and the agencies are going to treat this as their own information – it gives a level of legitimacy and acceptance to the work producers are doing every day already."
"We're glad we got this change into text, but implementation and rollout is everything, so we're also working with the USFS and BLM to make sure field offices and permittees can fully utilize these MOUs," she added.
Another area of focus has been on the BLM's grazing regulations revision process.
"PLC put together a working group with producers from across the West, with great representation from Wyoming, and we're working with several folks from the BLM's drafting team. We've been told there will be a draft rule and draft environmental impact study in the spring of 2023," she said. "The agency needs to stick to this timeline and get this process done."
PLC and NCBA have both been advocating for several changes impacting the standards of rangeland health, temporary non-use and flexibility with on and off dates.
"We've heard from a lot of folks in Wyoming, and from states across the West, about the way cooperating agencies have been handled during this process," added Johannes. "We're aware many cooperators were cut out of the process, and we want to make sure these individuals have a seat at the table."
Also, expected soon from the administration is a beta version of the American Conservation and Stewardship Atlas, which will roll out as a tool for the 30×30 initiative, used to reflect baseline information on lands and waters conserved or restored, she shared.
"The Atlas is meant to document all of the acres being currently conserved," said Johannes. "We've been adamant this process needs to include working lands and grazing as a conservation activity."
There currently hasn't been further action in regards to 30×30, but PLC and NCBA will continue to advocate for the industry as developments are made, she mentioned.
Lastly, Johannes flagged the Fish and Wildlife Service's notice of intent on the reintroduction of the grizzly bear in the Northern Cascades and revisitation of the species status assessment for the North American wolverine.
"In all of these cases, states know what they are doing better than the federal government and this is our goal in every one of these situations. Making sure management is led by the people who know how to handle it best – people on the ground, close to these habitats and understanding the impacts these species have on farmers, ranchers and rural residents while making sure decisions are made based on the best available science," she said.
Court and litigation focus
In August, PLC received intervenor status to defend the Trump administration's delisting of the gray wolf across the lower 48 states, according to Johannes.
"At the end of the day, we're quite adamant we need to continue pursuing the overarching goal and get this listing reversed," she said. "Our next step is waiting for the Department of Justice to file their appeal by the January deadline."
Another item on litigation is in regards to three 2019 ESA rules. On July 5, the California U.S. District Court Judge Jon S. Tigar disposed of the Trump administration's changes to ESA, and on Sept. 21 the Ninth Circuit Court of Appeals ruled the court improperly vacated the 2019 revisions.
This reversal by the Court of Appeals now fully reinstates the 2019 rules regarding economic impacts of an ESA listing and interagency consultation.
"The Biden administration will be getting a chance to redo these rules through a rulemaking process but they are not vacated," she mentioned.
Congressional focus
After the midterms, the Republican party has a narrow five seat majority in the House. Johannes shared this is not at all the landslide a lot of the industry and many people in Washington, D.C. expected.
Changes in the House of Representatives will make a big difference for future policy priorities.
The appropriations process begins every February or March, and this year PLC and NCBA advocated for several priorities.
"There are two buckets – funding requests and language requests," she said. "We made a language request that any funding can't be used for an ESA listing of the sage grouse – it's something we continue to fight hard for."
PLC and NCBA also made requests for funding for the U.S. Sheep Experiment Station and the BLM's Wild Horse and Burro management program.
Congress is also trying to add legislation to the appropriations bill including the River Democracy Act, which would designate massive amounts of Wild and Scenic River miles and the SAFE Act, impacting the travel and movement of equines.
This year, PLC and NCBA put in an appropriations request for funding for the wild horse and burro program of $153.1 million, which was about a $20 million increase. Johannes cited the organizations' desire for an increased schedule of gathers and removals.
"There's a reason why we build relationships on both sides of the aisle, so we fully embrace a bipartisan strategy and outreach," she concluded. "At the end of the day, it's extra important to be able to go to the table bringing the voices of producers and permittees we work with from across the West and make these voices and messages as loud as we need to."
Brittany Gunn is the editor of the Wyoming Livestock Roundup. Send comments on this article to roundup@wylr.net.