Event and Tour: Wyoming Women in Ag hosts symposium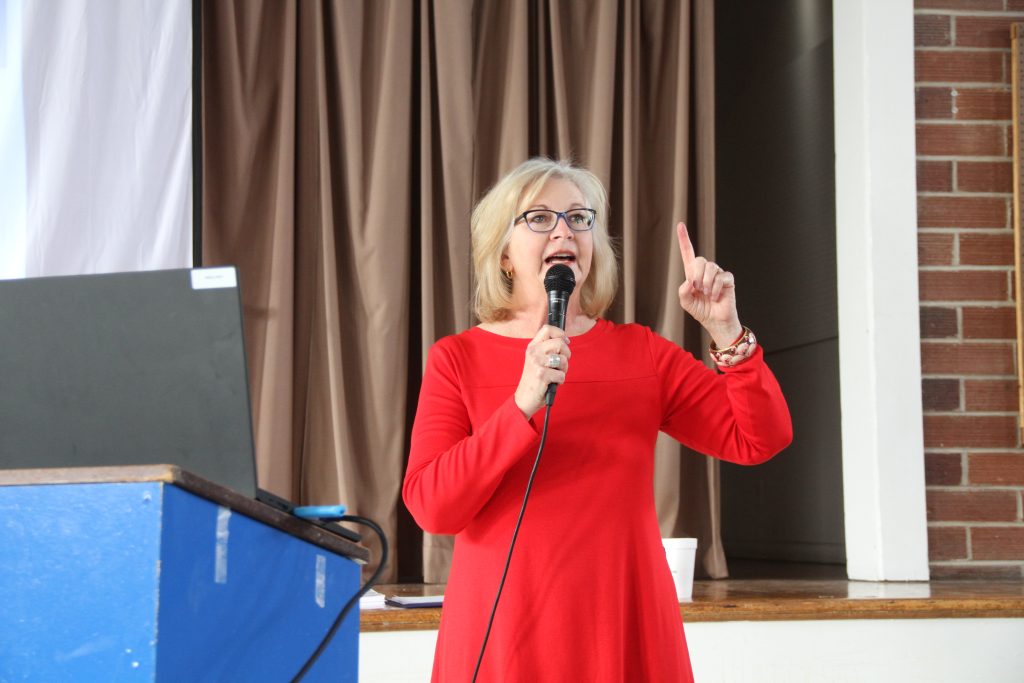 Riverton – The 29th Annual Wyoming Women in Ag Symposium was held at the Fremont County Fairgrounds on Nov. 17-18. The symposium included a keynote presentation and workshop on self-care; a ranch tour; educational breakout sessions; a tour of the Central Wyoming College (CWC) Ag Department and Meat Processing Unit; and trade show.
Attendees were given the opportunity to socialize with fellow ranch women and enjoy locally-sourced meals during the event.
Keynote speaker
Dee Dee Raap presented on "Self-Care for the Stress of Life" and conducted a self-care workshop during the symposium on Nov. 17.
Raap grew up on a farm in South Dakota where she learned the value of hard-working ag women. Over the years, she developed a passion for assisting women with their self-care to avoid stress and health problems.
"If we don't take care of ourselves, can we really be there for anyone else?" she asked. "Let's be there for ourselves, as well as our co-workers, family and friends – with self-care helping us make our journey great every day."
She has helped thousands learn valuable skills to implement in their life. Raap focuses on turning overwhelm, fear, uncertainty and tiredness into clarity, energy, positivity, security and courage in her inspiring presentation. Raap provides women with the tools to overcome the stress of life.
"One of the best choices women can make today is to practice self-care," she said. "You work hard at making a difference and being successful in the ag world, and without a doubt, you want to sustain the good work you do. Self-care helps you do just that."
Breakout sessions
Multiple breakout sessions were held Nov. 18 during the symposium. Nationwide Land As Your Legacy program Central Regional Vice President Lisa Quist discussed developing a transition plan for farmers and ranchers transitioning their estate and assets to the next generation.
Ranch Right LLC owner John Haskell informed attendees on financial planning. University of Wyoming graduate student Abbi Rodgers shared her research on tallgrass prairie, fire and grazing. She is graduating in December with a Master of Science in Rangeland Ecology and Watershed Management.
University of Wyoming Ag and Horticulture Extension Educator Dr. Caitlin Youngquist discussed the importance of maintaining and improving soil health, as well as explained carbon sequestration.
The final breakout session was geared towards meal planning and feeding the crew. Ranch women gathered during this breakout session to share their famous recipes, discuss cooking tips and tricks and socialize. Attendees were encouraged to provide their favorite recipes for a Wyoming Women in Ag cookbook.
Tours
Attendees toured the 410 Ranch near Riverton on Nov. 17. Owners Gwen and Reno Shepperson guided the tour as they discussed the diversification on their farm, feedlot and cattle operation.
CWC Instructor of Agriculture Keith Duren led the group through a tour of the CWC Ag Department and Meat Processing Unit on Nov. 18. CWC's Ag Department focuses on education beyond the classroom through hands-on training and practical experiences. The college has recently developed their Meat Science and Food Technology Program. Attendees were able to gain an inside-view of the hands-on experience students are offered.
Kaitlyn Root is an editor for the Wyoming Livestock Roundup. Send comments on this article to roundup@wylr.net.