Future of Ag: WyFB hosts 103rd annual meeting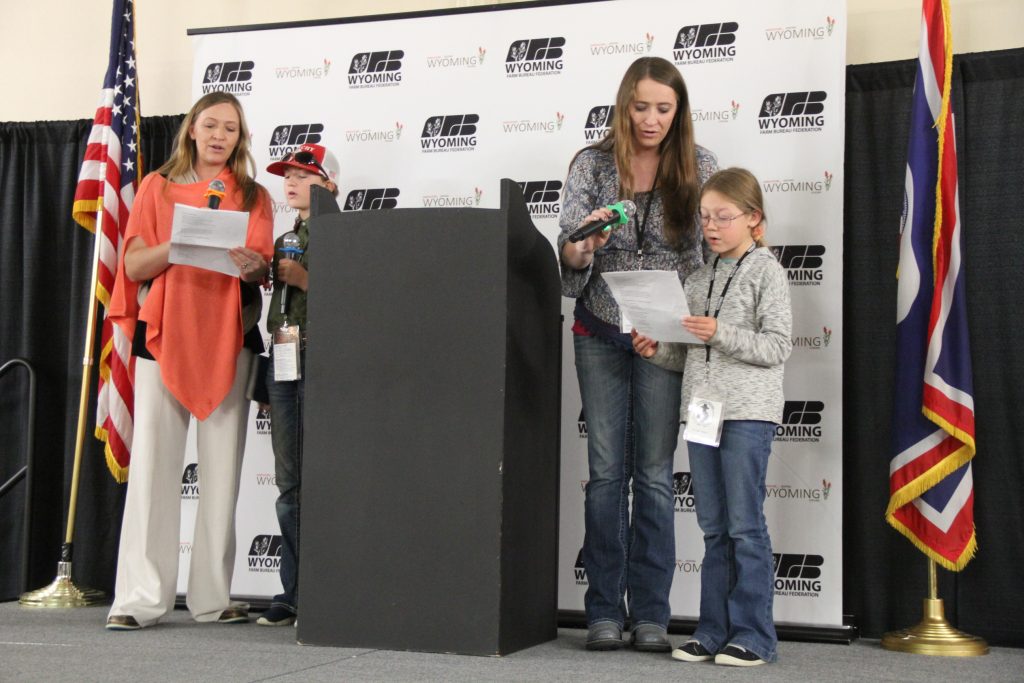 Casper – The Wyoming Farm Bureau Federation (WyFB) 103rd Annual Meeting was held Nov. 10-12 at the Best Western Downtown Casper Hotel. This year's meeting theme was "Our Agriculture. Our Future."
Wyoming farmers and ranchers gathered to participate in the grassroots policy development process and make a difference for the future of ag. In addition, voting delegates from the county farm bureau federations participated in policy discussion, elected officers and discussed the policy course for 2023.
Elections
Todd Fornstrom of Laramie County was elected to his seventh term as president of the WyFB.
"Being trusted to be a representative for what I believe to be the best agricultural organization in our country, if not the world, is an extreme honor," said Fornstrom. "I'm ready to continue working for farmers and ranchers in Wyoming."
Lane Hageman of Goshen County was elected to his second term as the WyFB director-at-large.
"We really need to unite, stand up for and defend agriculture from the blatant attacks we see every day," Hageman said. "I believe in the WyFB and our mission to protect agriculture."
Voting delegates elected Cole Coxbill of Goshen County to his seventh term as WyFB vice president.
"The strength of the WyFB comes from the individual member, and this is where the power of the grassroots federation shines," Coxbill stated. "It's an honor and privilege to serve the membership of this great organization and be their representative as we work to keep agriculture strong."
In addition to the three statewide elections, five district directors and the Young Farmer & Rancher (YF&R) Committee state chair serve on the state board.
The YF&R Committee elected Carbon County rancher Quade Palm as the state YF&R chair. This position has a seat on the WyFB Board of Directors.
Rounding out the WyFB Board of Directors are the district directors. This year's district directors include: Northeast District Director Raenell Taylor; Southeast District Director Kevin Baars; Central District Director Tim Pexton; Northwest District Director Thad Dockery; and Southwest District Director Justin Ellis.
General session
During the general session on Nov. 11, Hageman welcomed members to the meeting.
"WyFB is a unique organization, and I am proud to be a part of it," he said. "We all have different operations in the state – we even offer different commodities, but we are here because we are the unified voice for agriculture."
Hageman mentioned the importance of the individuals making up the WyFB.
"This organization is still going because of folks like you living out your purpose," he said. "Let's be honest, feeding the world is a big job."
Hageman encouraged members to remember the importance of freedom and to unite around the fight against restrictions imposed on ranching and farming operations.
"Agriculture is the strongest when we are able to lawfully govern ourselves and make our own decisions regarding what is best for our operations," he said. "After 103 years, this organization has not caved to the wokeness of today's culture and that is why many of us are proud to be a part of the WyFB."
Fornstrom acknowledged the strength of the WyFB.
"We, as the WyFB together, are a strong voice," he said. "Your interactions with people on a daily basis are truly important. It is why farmers and ranchers are some of the most trusted professionals out there."
"When you are in a conversation with someone who isn't in agriculture, your voice is the most important voice they are going to hear," he added. "They trust you, and they should. It's an honest way to make a living."
Issues facing ag
WyFB Executive Vice President Ken Hamilton reflected on past accomplishments of WyFB staff and board members, as well as looked towards the issues WyFB will be facing in 2023. He mentioned the Clean Water Act, Waters of the U.S., National Environmental Policy Act, pesticide regulations, Colorado River Basin drought, Endangered Species Act and high input costs will be some of the main focuses of WyFB going into 2023.
Hamilton recognized the U.S. urban, rural divide and said WyFB has been focusing on narrowing the divide through education.
"We have been working to let those urban neighbors of ours know what is going on in Wyoming with agriculture," he said.
YF&R Ag Books for Kids is a program Hamilton highlighted. The program places agriculture books in elementary school libraries across Wyoming.
The WyFB also supports Wyoming Ag in the Classroom and other educational programs throughout the state of Wyoming.
"We have a multi-part program going to help us try and bridge the urban, rural divide," he said. "It's an uphill battle in Wyoming, so I can only imagine what it is like in other states."
Governor address
Gov. Mark Gordon spoke during the luncheon on Nov. 11.
"My primary motivation as your governor has been to get our nation focusing back on independence – energy independence and ag independence – and making sure we understand our future is ours to make, not somebody else's," he said.
Gordon said energy independence will be "absolutely center of mind" during his term as the vice chair of the Western Governors' Association.
"We need to be able to produce and refine our own energy," he said.
Gordon also addressed the importance of water management in Western states.
"All of our drainages are now going to be challenged by out-of-state interests and we need to have both the technical capacity and the legal capacity to protect our water," he said.
Gordon mentioned predator control is another top priority of his.
"Wyoming's wolf solution is working," he said. "We can take care of wolves and our populations are steady. We are going to work very hard to make sure we have predator control."
Gordon acknowledged how crucial the ag industry is to the state of Wyoming.
"Our state is an agriculturally backed state," he said. "Agriculture is our backbone. If we do not have a strong agricultural sector, there is nothing else in this state that is going to work."
"We need to be able to demonstrate not only that Wyoming produces better, but it produces cleaner and it produces with more quality control than any other place in the country," he added.
Gordon said he is "thrilled" to represent Wyoming for the next four years.
"Thank you to all the farmers and ranchers, to their families," Gordon said. "God bless you. God bless Wyoming. God bless the U.S."
Kaitlyn Root is an editor for the Wyoming Livestock Roundup. Send comments on this article to roundup@wylr.net.