Blue Jeans Ball: Annual event supports Wyoming FFA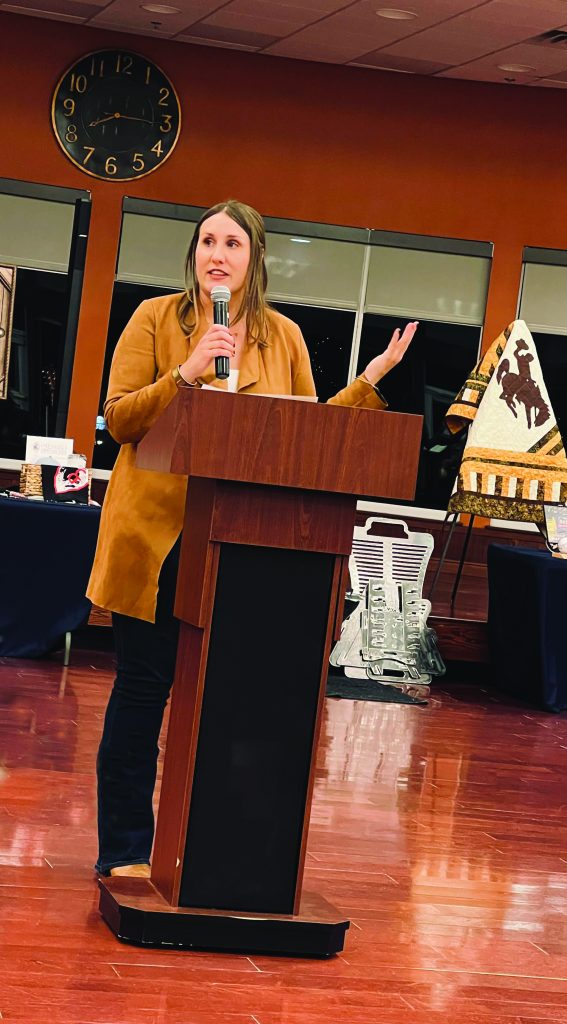 Annual event supports Wyoming FFA
The 2022 Wyoming FFA Foundation Blue Jeans Ball took place Nov. 5 at the Campbell County Senior Center in Gillette. The event featured live entertainment by Wyoming native Lacy Nelson, a live and silent auction, games, gun raffles and a dinner catered by Randol's Southern BBQ Pit.
Wyoming FFA state officers worked the event and held the auction to raise money in support of their travels.
Spreading FFA awareness
Wyoming FFA Foundation Executive Director Oaklee Anderson says the Wyoming FFA Foundation Blue Jeans Ball is a fundraiser the Wyoming FFA Foundation has been putting on for over 20 years.
"It is an event we use to raise general dollars to help support the foundation and spread awareness for Wyoming FFA," she says. "We like to choose a different community every year to bring awareness of what the foundation does to different areas of the state."
Normally the event is in September, but the foundation decided to host it in November this year and observe turnout numbers.
"It was a bit of a smaller crowd this year, not by much, but they were a really fun and engaged crowd," says Anderson. "There were a lot of different people we haven't ever met before or haven't engaged with in a while."
"I really enjoyed this year because there were lots of faces I had never had the opportunity to meet," she adds. "It was a different crowd than we typically see and it was really enjoyable."
Wyoming FFA representation
Past and present Wyoming FFA members played important roles in this year's Blue Jeans Ball. Randol's Southern BBQ Pit, based out of Powell and owned and operated by 2022 State FFA Star in Agribusiness Randol Hayes, provided catering services for dinner, and the Wyoming Pork Producers Council sponsored the pork portion of the dinner.
"Randol started the project when he was 13 years old as a junior high FFA member, and it has grown into a pretty successful barbecue business, so that was one of the things I was most excited about," says Anderson.
Lacey Nelson, a ranch-raised Wyoming native and past Wyoming FFA state officer of the Ten Sleep FFA, performed live entertainment at the event. Nelson writes and performs her own original music and is a self-taught guitarist and natural poet.
"We have never done live entertainment before, so it was a really neat addition," says Anderson.
For more information on the Wyoming FFA Foundation, visit wyoffafoundation.com. The next Blue Jeans Ball will be held in September of 2023 in Casper.
Kaitlyn Root is an editor for the Wyoming Livestock Roundup. Send comments on this article to roundup@wylr.net.