Recipients Honored: WWGA hosts 2022 summer membership meeting and tour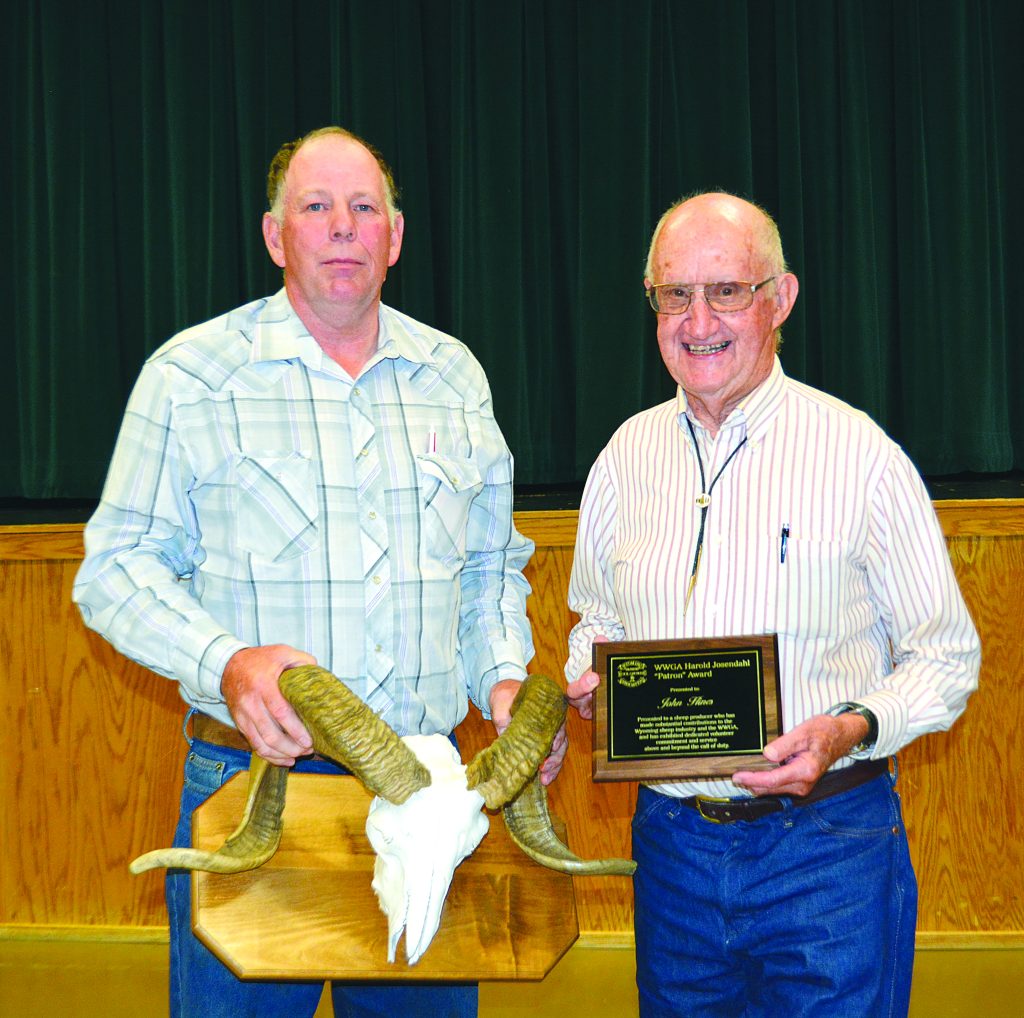 Wright – The Wyoming Wool Growers Association (WWGA) hosted their annual summer membership meeting July 13-14 in Campbell County. Members met to partake in ranch tours, a business meeting, listen to presentation speakers, welcome new WWGA Executive Director Allison Crane and honor two individuals making an impact on the sheep industry.
WWGA welcomes new leadership
On March 31, outgoing WWGA Executive Director Amy Hendrickson announced her retirement from the association.
"I would like to make our heartfelt thanks as the current board chairman and president of the organization for the dignity, honor and pleasure to serve with Amy," said WWGA President Regan Smith. "Amy didn't just say, 'here is my two-week notice, I'm done.' She came in with dignity and pride and she left the same way."
Crane has been selected to serve in her position and she is looking forward to representing the sheep industry and Wyoming.
"I've waited to be here basically my entire life," said Crane. "I'm so happy to be here and I can't wait to get to know the individuals who make up this great industry."
Crane, an Alabama native, found a passion for the sheep industry after doing research in her undergraduate at Berry College in Mount Berry, Ga.
"I really fell in love with the industry in Georgia and this is where I decided what I wanted to do – work with sheep, the sheep industry and sheep producers," she said.
Crane finished her post-secondary education at North Dakota State University and worked for Hettinger Extension Research Center through her masters and PhD.
"Wool production is really what got me going in the sheep industry and what I've come to love," said Crane. "Sheep are incredible creatures, and this is one of the most incredible places to raise them."
"I've always wanted to end up here and I'm really happy to be here. I will do anything I can for the association and to keep pushing the association forward," concluded Crane.
Smith wanted to again thank Amy Hendrickson for her commitment, dedication and work to the association.
"There is not a doubt in my mind she moved us forward from where we were at," mentioned Smith. "And, there is not a doubt in my mind Allison can do more than that."
"We found a young gal extremely excited about being in Wyoming and we're excited to have her," he said.
Compadre Award
The WWGA Compadre Award recognizes industry contributions from a professional in a position or field related, either directly or indirectly, to sheep production. Recipients of this award show a strong and significant contribution to the industry, its organization and its producers, above and beyond what is called for in their professional capacity.
Incoming WWGA President Mike Curuchet announced Wyoming Sen. Dave Kinskey received the award.
"We all know the last three years have been tumultuous at best," he said. "We went through some tough times and as small as this industry is, sometimes we need help in big places."
Curuchet noted Kinskey has stepped up to the plate time and time again.
"He always acts on calls, he always gets producers information if he doesn't have it at hand – he always fights the fight for this industry," Curuchet said. "It's my great pleasure to thank, honor and hopefully to continue the relationship with Sen. Kinskey."
"Thank you very much, I'm really moved," said Kinskey. "I undertook public service and don't really expect anything or recognition. The job is to get the job done like this industry does every single day."
"Agriculture people are, by nature, conservative," he mentioned. "They don't ask for a whole lot and when they need help, they need help in a big way and it's my job to help them and that's what I'm going to continue to do down in Cheyenne. Thank you and God bless."
Patron Award
The WWGA presented John Hines with the WWGA Harold Josendahl Patron Award. This award is presented to a sheep producer who has made substantial contributions to the Wyoming sheep industry and WWGA, and has exhibited dedicated volunteer commitment and service above and beyond the call of duty.
"John Hines is the real deal," said Smith. "He has dedicated his life to the state of Wyoming and the state of Wyoming has been his livelihood and drive.
"He is a true statesman and he is what we need as a leader, both locally and nationally, and it's a great honor to recognize him as this year's recipient," Smith said.
"Thank you WWGA – I've been very involved with all of the leaders, and the wool growers have been really helpful to me," Hines said. "I certainly never have been a public speaker but I learned from going to state and national WWGA meetings. I've been fortunate to represent Wyoming and I try to represent agriculture to the best of my ability wherever I go."
For over 30 years, Hines represented Campbell County and parts of Converse County in Cheyenne in the state legislature.
"I'm glad I've been able to do a little to help the industry and if there is anything I can do to help in the future, I will be willing to help. Thank you all very much," he concluded.
Brittany Gunn is the editor of the Wyoming Livestock Roundup. Send comments on this article to roundup@wylr.net.