Excellence at Midland Bull Test: KB Angus continues to offer genetically proven bulls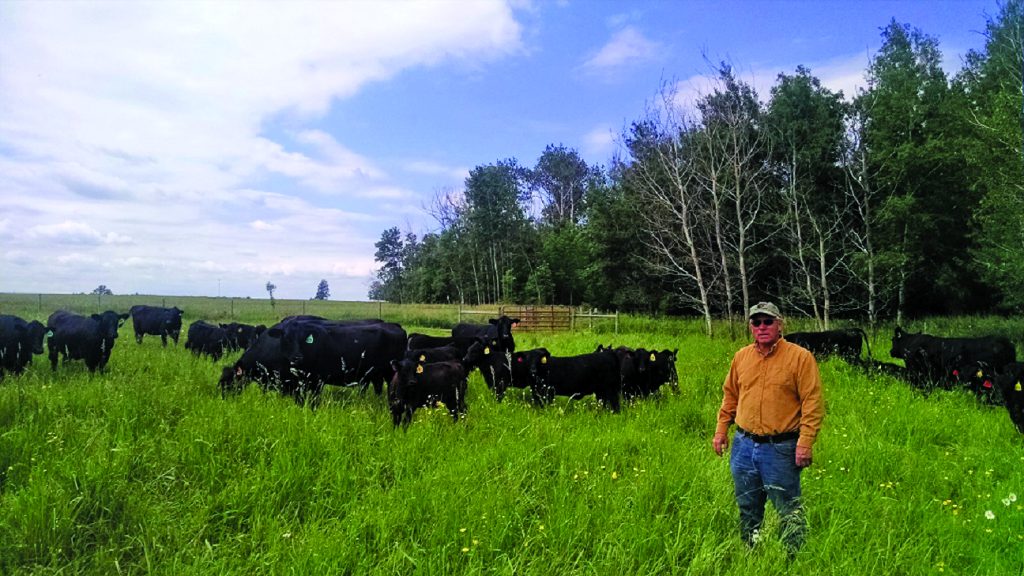 KB Angus, located in Merritt, Mich., is owned by Kevin and Carol Beckington whose focus is producing purebred Angus breeding bulls and seedstock for the beef industry. The couple's main goal is to acquire well-balanced genetic traits excelling in calving ease and growth, while maintaining quality Certified Angus Beef requirements.
KB Angus strives to improve profitability for their customers and the beef industry while continuously improving the overall genetics of their herd to produce the ultimate product for their customers and consumers.
Involvement in the industry
Kevin originally grew up on a dairy farm as a kid. Later in his life he started Advanced Industries Incorporated as a machinist, and after several years he had a goal of getting into the Angus business.
"Our primary focus is to raise purebred Angus, breeding bulls and seedstock for the beef industry," shares Kevin. "In addition to acquiring well-balanced genetic traits – calving ease and growth."
KB Angus is always working to improve their genetics and takes pride in paying attention to the details when making breeding decisions, notes Kevin.
"We used to do some bull breedings, but today, everything is 100 percent artificially inseminated (AI) bred or embryo transferred," says Kevin. "We try to use easy calving sires which can perform. We spend quite a bit of time finding the right sire to match with traits we are trying to improve on the cow. A lot of time goes into doing this."
Several traits KB Angus focuses on include performance, calving ease and phenotype, he says.
"We try to get a whole package put together – it can be hard, but that's what you have to try to do – have balanced genetics and traits with phenotype and growth," says Kevin.
Top class winners
KB Angus brought 11 bulls to the Midland Bull Test and had several category winners. Top honors include the Champion Pen of Three with lots 151, 153 and 158.
Lot 151, sired by GAR Home Town won Angus Group 1 Class 1 (low birth) weight per day of age (WDA) with a WDA of 3.83, average daily gain (ADG) of 4.12 and EPDs of BW -1.4, WW 82, YW 149, M 38, RFI -0.64, Eff 110 and MBT 115.
Lot 153 won Angus Group 1 Class 2 ADG with an ADG of 4.66 and a WDA of 3.93. Sired by GAR Home Town, he has EPDs of BW 2.1, WW 75, YW 139, M 28, RFI -0.97, Eff 110 and MBT 116.
Lot 158, sired by EWA Peyton 642 took home top honors with a WDA of 4.09 in the Angus Group 1 Class 2 WDA. He has EPDs of BW 2.6, WW 104, YW 187, M 23, RFI -0.49, Eff 93, MBT 114 and an ADG of 4.41.
The Champion Sire Group posted an average MBT Index of 111.67, sired by GAR Home Town, was awarded to lots 153, 151 and 157.
"Having good genetics has really proven successful during the Midland Bull Test," says Kevin. "We are very particular picking out our genetics. A lot of time is involved in picking breeding selections."
In addition, their bull KB-Full Measure C40 is a featured sire with Select Sires Inc. which went through the Midland Bull Test, says Kevin.
"This bull was purchased by an individual but he ended up at Select Sires," he adds.
Select Sires Inc., is the largest global AI cooperative and is comprised of six farm-owned and controlled local organizations in the U.S. Located in Plain City, Ohio, the organization is an industry leader in highly fertile semen and customer service programs serving beef and dairy producers with the world's best genetics.
In addition to being involved with the Midland Bull Test of Columbus, Mont., KB Angus also participates in several other bull tests, including the Indiana Beef Evaluation Program and the Michigan Cattlemen's Association/Michigan State University Bull Evaluation Program.
Advice for
future consignors
Choosing the right sires can be tough, but Kevin notes it's important to pick the right sire for the cow and to utilize other producers' knowledge – don't be afraid to ask questions.
He shares, getting bulls through a test can be a challenge and it can be frustrating but everyone faces challenges.
"They can get all the way through and perform but might not pass the semen test," he says. "This year our GAR Home Town bulls did a great job. Sometimes it takes a little bit of luck to get through it all healthy."
"We strive to always improve the overall genetics and to keep improving every year. You try to make the perfect cow, but there is no such thing as a perfect cow and there is no perfect bull either," he says. "They are all different – every bull is different; you've just got to find the one that matches up the best with what you are trying to achieve and which cow you're trying to breed."
"If you make the wrong decision it takes about two years before you can get back to where you were again," explains Kevin. "It's really important to get the right selection made when breeding and figuring out mating."
"I try to learn every day from people," he concludes. "You're never done learning – there is always something to learn."
For more information on KB Angus bulls, visit kbangus.com and the Midland Bull Test, visit midlandbulltest.com.
Brittany Gunn is the editor of the Wyoming Livestock Roundup. Send comments on this article to roundup@wylr.net.