Complicated exports: Agriculture export supply chain crisis discussed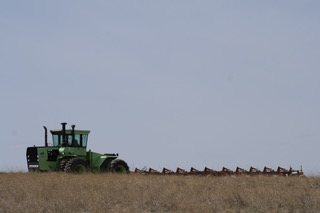 Washington, D.C. – On Feb. 1, during a webinar hosted by Agri-Pulse, U.S. Department of Agriculture (USDA) Secretary Tom Vilsack, White House Porcari John Porcari, Rep. John Garamendi (D-CA) and Rep. Dusty Johnson (R-SD) met to discuss the current supply chain crisis affecting the U.S. economy.
America's agriculture industry has a tremendous opportunity to create jobs and boost the U.S. economy, but not without U.S. products being exported, shared Agri-Pulse.
During the webinar, panelists representing different sectors of the agriculture industry, identified areas for improvement and set the stage for much-needed reforms and solutions.
USDA secretary overview
In September 2021, U.S. Transportation Secretary Pete Buttigieg and Secretary Vilsack sent a letter to ocean carriers who service the U.S., urging them to help mitigate the disruption taking place in agriculture exports.
"We know a few containers are available and agriculture companies are seeing significant charges and incredibly high fees," shared Vilsack. "What pains the most is seeing empty containers leaving U.S ports headed to markets which should be filled with agriculture products."
"This is important because in any given year, 20 to 30 percent of what producers grow and raise in this country is exported, and it absolutely affects the bottom line of agriculture producers," said Vilsack. "There are hundreds of thousands, if not millions of jobs that are connected directly to agriculture exports, and so it's important to us to resolve the disruptions that are occurring."
Resources identified by the administration and USDA under the Commodity Corporation are expected to help address some of the issues, especially as they address empty containers, he explained.
Partnership to address export concerns
During the webinar, Vilsack announced a partnership between the USDA, Department of Transportation, the Port Czar, John Porcari and the Port of Oakland to get a quicker pickup of empty containers, provide container access, avoid port congestion and additional surcharges and fees.
"The Port of Oakland is going to make available a 25-acre site where agriculture companies can use to fill empty containers with American agriculture commodities," said Vilsack. "USDA is going to pay 60 percent of the startup cost and provide the shippers a subsidy of $125 per container to offset some of the logistic costs of moving containers."
"We believe the combination of the subsidy assistance and location will help provide an expanded export of nuts, dairy, wine, meat, hay, tomatoes, citrus, rice, soybeans and other agricultural products," shared Vilsack. "We're excited about this and think it will service Asian markets."
The site is expected to be fully operational as early as March 2022.
Export loss
"The administration has been laser focused on agriculture exports since these supply chain disruptions began," said Porcari. "The U.S. is the largest agriculture exporter, but there is much more we can do as California ports had a nine percent drop in containerized agriculture exports between May and September of 2021; with a 15 percent drop at the Port of Long Beach; 18 percent drop at the Port of Los Angeles; and a staggering 34 percent drop at the Port of Oakland."
These drops translate into a $2.1 billion loss for California agriculture exports during the same time period, and has had a nationwide impact, mentioned Porcari.
Causes for loss
There are several reasons why the U.S. is experiencing an ag export supply crisis. Porcari elaborates on these issues affecting the agriculture supply chain.
"First, because of the economics of containers right now – exporting an empty container is simply more valuable to ocean carriers than a container filled with agriculture products," he explained. "The second reason is the record setting volumes in container traffic COVID-19 brought. The economy shifted spending from restaurants and theatres to buying imported goods."
"The third reason is loss of ocean carrier service. They are concentrating on fewer ports and the most lucrative service," continued Porcari. "We're attacking the problem from both ends – finding ways to incentivize and streamline agriculture exports and working with these ocean carriers to restore service."
The announcement for the Port of Oakland is only one part of a multi-prong strategy on agriculture exports, he shared.
Restoring southeast Asian and far East services is important in general and the partnership announced is not the only solution, but a step in the right direction, mentioned Porcari.
One of the ways USDA is doing this around the country, is by developing pop-up sites in Oakland and Georgia with more to follow, he said.
Needed regulatory reform
"The problem is ocean carriers do not understand this is a two-way street, and until they understand the message, all the good things that are being recommended, simply won't fix the problem, until there is a law that says, 'You can't do it,'" said Garamendi.
"It's a three-pronged issue," added Johnson. "We do need investments in the ports, and we have operational adjustments being made, but the industry does need regulatory reform."
"Right now, the interest of the ocean carriers is not particularly well-aligned to the interest of American shippers," continued Johnson. "We cannot take our foot off the pedal; we have to make sure we continue to push the agenda forward."
Johnson recommended a three-pronged solution through efficiency and effectiveness of agenda dollars, operational adjustments and passing the Ocean Shipping Reform Act (OSRA) in the Senate.
On Dec. 8, 2021, the U.S. House of Representatives passed the reform act to address the ongoing supply chain crisis and provide critical updates to the international maritime transportation system, which has been impacted by COVID-19.
"We are an exporting nation and it is clear from the data and evidence that agriculture exports are being disadvantaged right now, and that is unacceptable," commented Porcari.
"The pop-up site is not the only solution, it's an important first step," concluded Vilsack.
Brittany Gunn is the editor of the Wyoming Livestock. Send comments on this article to roundup@wylr.net.