WSGA Winter Roundup: Industry convention provides important updates on the state of agriculture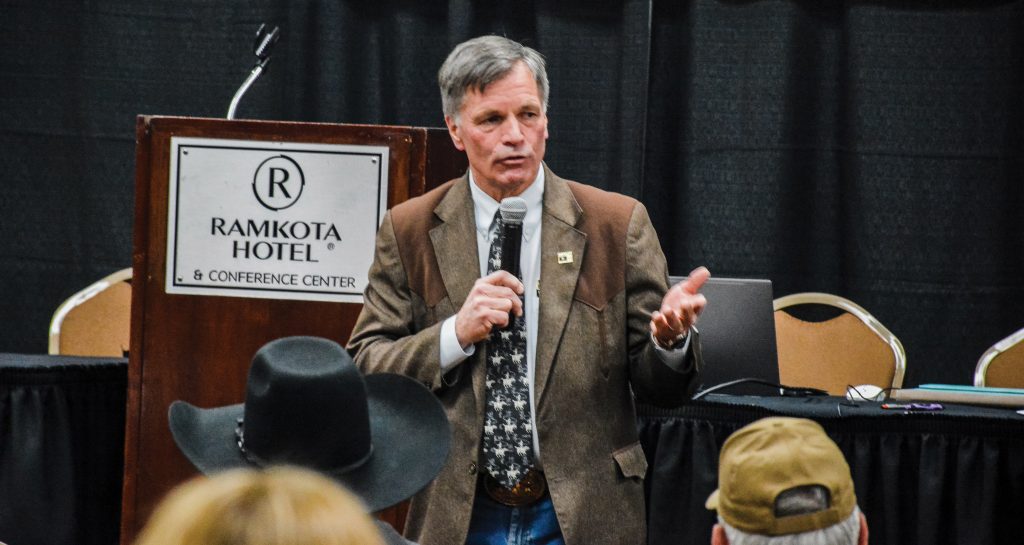 Casper – The Wyoming Stock Growers Association (WSGA) hosted their annual Winter Roundup Dec. 13-15 at the Ramkota Hotel and Conference Center. The three-day event was jam packed with several presentations from researchers, cattlemen, cattlewomen and industry leaders.
Several Wyoming representatives were in attendance including Gov. Mark Gordon, while leaders Sen. John Barrasso (R-WY) and Rep. Liz Cheney (R-WY) attended virtually. All three representatives provided comment on several government concerns impacting the state.
Future of Wyoming
During the banquet, Gordon shared his passion for the state of Wyoming, it's people and commodities. Wyoming is by far the best state, he noted.
"Wyoming has wonderful industries which showcase perseverance, ones that have been through bad and good times, industries such as agriculture – folks like you," he explained. "The state of Wyoming doesn't ask for a lot but is able to get a lot done, and going forward, Wyoming is going to have to dig deep."
Gordon acknowledged the hard work and commitment of Wyomingites – a big family which represent the agriculture industry.
"I believe in the agriculture, beef and sheep industries" he shared. "I believe in what Wyoming can do to solve problems in this country, and the culture that we have here in Wyoming is what we need to have in this country."
It's important to keep the state's youth involved in agriculture and for government delegates to have conversations with producers and landowners in their communities, he noted. Gordon encouraged government administration to have conversations with individuals involved and impacted – those on the frontline.
"The government needs to recognize the good things the state of Wyoming is accomplishing and provide the latitude and market for individuals to produce, make a living and make the world a better place," Gordon shared.
He discussed several issues regarding Wyoming policy, including: management of the Greater Yellowstone Ecosystem grizzly bears, delisting wolves and the Greater sage grouse in addition to the federal government's plans to transition away from fossil fuels, coal, oil and gas.
"The state of Wyoming knows how to manage our wildlife," he said. "The government needs to allow the states the right to exercise control over wildlife within their boundaries."
Gordon explained his newly introduced American Rescue Plan Act (ARPA) budget – a budget that will replace general fund dollars with ARPA dollars.
"The state of Wyoming wants to make sure the dollars used in the budget are going to be used towards agendas that will make this state more economically diverse, improve Wyoming lives and infrastructure and make sure Wyoming runs better," he said.
Gordon concluded, "We are the best outfit this country has ever produced and I believe we will make it where we need to go."
Tax and spending bill
Barrasso shared Democrat parties are trying to pass a massive tax and spending bill, which he explained will have negative impacts on families and businesses all across America, particularly in Wyoming.
"The bill includes surcharge taxing 'mom and pop' businesses, which will be a big problem for Wyoming," he shared. "This surcharge tax will be added on top to the taxes that individuals already pay."
Barrasso discussed President Joe Biden's plan to further tax farmers and ranchers by proposing wholesale changes to land and other business assets which will be taxed when passed on to a family heir.
"One of these changes would be to reset the basis on the value of the land, buildings and livestock at the time of the owner's death – resulting in inflation over decades," explained Barrasso. "Avoiding these potentially large tax bills is important in continuing family operations."
He continued, "Hard working Americans shouldn't be punished for passing their family businesses or ranch on to their children."
Barrasso concluded, "Our entire delegation remains vigilant in preventing any future attacks on farmers, ranchers and family businesses."
Reform and act introductions
Cheney discussed future plans for several reform and bill agenda changes. An obvious focus she shared is in regards to wildfires and how Wyoming and the Western Plains have been impacted.
Cheney shared the wildfire season is roughly 78 days longer than it was 50 years ago and there is tremendous work that needs to be done to address the issues Wyoming and other western states are facing.
In working with Rep. Joe Neguse (D-CO), the team has introduced Tim's Act – named after Tim Hart who lost his life working on the 2014 Eicks Fire in New Mexico.
"This legislation will make sure we are compensating wildland firefighters, expanding hazard pay, providing housing allowance and more," commented Cheney. 'To help ensure these firefighters are being compensated for putting their lives on the line, which in too many cases, is a result of bad policies on forest management on federal lands."
Cheney is also working on the National Environmental Policy Act (NEPA) reform, 30×30 Plan and the Undoing NEPA's Substantial Harm by Advancing Concepts that Kickstart the Liberation of the Economy Act (UNSHACKLE) – which combines five stand-alone NEPA-related bills all focused on maintaining the Trump administration NEPA revisions.
In addition to these concerns, Cheney shared she is also taking a focus on issues concerning delisting of endangered species, putting a stop to prohibition on the oil and gas industry and looking into current meat inspection regulations.
"I understand how important it is to make sure producers have access to markets, and we shouldn't be in a position where Americans are facing challenges because producers can't get slots in the federal meat packing facilities," said Cheney.
Lastly, Cheney continues to work on a number of issues with telehealth post COVID-19.
"We want to make sure those changes become permanent," she concluded. "The telehealth bill will make sure Medicare reimbursement for telehealth will continue as Americans recover from the pandemic."
Brittany Gunn is the editor of the Wyoming Livestock Roundup. Send comments on this article to roundup.wylr.net.