Scoping Process Begins: Land Management agency prioritizes sage grouse policy changes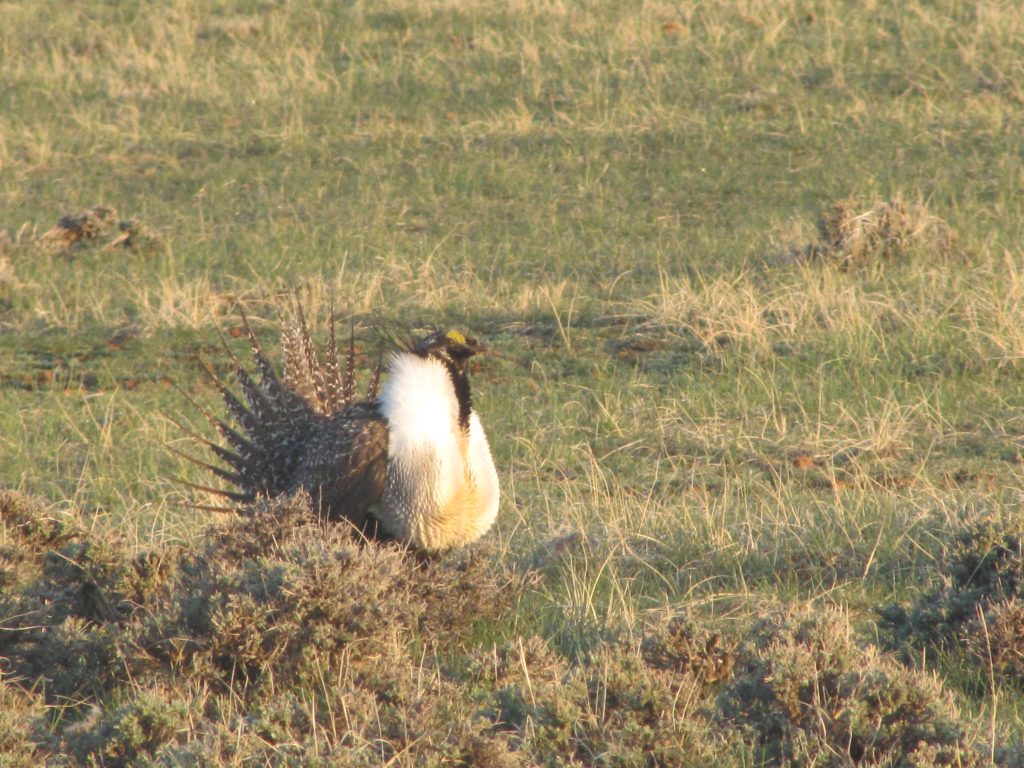 Washington, D.C. – On Nov. 19 the Bureau of Land Management (BLM) announced its plan to begin the scoping process to review and change current Greater sage grouse policy. National Cattlemen's Beef Association (NCBA) Vice President of Government Affairs Ethan Lane shared his knowledge on the current status of sage grouse management and possible changes to current policy.
Policy changes
Throughout history, there have been several management plans enacted. The first version came from the Obama administration in 2015 and was followed by revisions from the Trump administration in 2019.
"When any court action occurs, it causes a chain-link effect on both sets of plans," explained Lane. "Because of this whiplash, BLM feels the need to gather additional information and potentially make revisions to regulations around sage grouse management."
As a result, the BLM will be seeking public comment in support to review both the 2015 and 2019 plans.
"Basically, an all-encompassing review will be taking place in an effort to determine changes," said Lane.
The Biden administration and the current federal government have appeared to be in support of grazing alongside sage grouse management, in comparison to the Obama administration.
"They are definitely more positive about grazing than we've seen from a democratic administration before," he shared. "Having an administration that better understands grazing practices provides a better environment for healthy conversations."
Environmental factors
The problem throughout management conversations is the belief that grazing has been viewed as a practice that is not compatible with sage grouse management, explained Lane.
"For years, environmentalist groups have attacked grazing practices," Lane said. "However, through years of implementing conservation practices, farmers and ranchers have proved their track record in successful habitat and land management."
In the West where sage grouse live, livestock grazing on their habitat decreases the threat for fire, explained Lane.
For example, the 2018 Martin Fire in northern Nevada burned 400,000 acres of land, and roughly 90 percent of it was priority sage grouse habitat which hadn't been grazed in two years, he shared.
"There is this correlation between not grazing land to protect sage grouse, where on the other hand, it ended up burning any way because it wasn't grazed," explained Lane. "It's been a function of trying to get recognition for what is working for the benefit of sage grouse versus what environmental groups want to hear."
It can also be argued the sage grouse population is at risk of extinction if grazing practices are not utilized, shared Lane.
In addition, sage grouse can be severely impacted by drought and currently there is not a management practice that ranchers can employ to improve that fact.
"We can have the most responsible grazing in the world, but if it's not raining enough, sage grouse are still going to be impacted, and this has nothing to do with farmers or ranchers," shared Lane.
Big picture conservation
Over the years, there has been a tendency to hyper-focus on individual species such as sage grouse. Lane discusses a focus on big picture conservation by observing the entire landscape, ecosystem and general health of the habitat.
"You can have a healthy, thriving landscape with good management conditions and practices where species are still doing poorly. Both of those things can be true at once," said Lane. "When we look at a piece of priority sage grouse habitat in Wyoming, it's important to note a past failure for sage grouse should not be a determining factor in policy without recognizing contributing environmental factors."
Soil carbon, management of fuel loads and eliminating invasive grasses all have an impact on ecosystems.
Management support
"We need to keep reinforcing the point that whether it's sage grouse, climate or anything else, none of the objectives of the environmental community in this country are possible in the western U.S. without the work that cattle and sheep producers do," said Lane. "We're going to have keep fighting this battle, but it's important for producers to understand that as depressing as it can be sometimes, we are winning and the tide is moving in our direction. We just have to keep at it."
Public Lands Council (PLC) Executive Director and NBCA Executive Director of Natural Resources Katilynn Glover commented on the matter, saying, "For years, ranchers have demonstrated that the conservation measures they have put in place on private lands and on federal grazing allotments have been the cornerstone of a holistic and successful conservation approach. Federal sage grouse plans have been tied up in court for years, and it's long past time ranchers, land managers and agencies have a clear path forward. Ranchers' decades-long efforts across these habitats have yielded success, and future management plans must recognize their invaluable on-the-ground knowledge and expertise."
Comment period
The Federal Register will be accepting a 75-day comment period which will end on Feb. 5, shared Lane. NBCA and PLC plan to engage aggressively, as well as states including California, Colorado, eastern Oregon, the Dakotas, Idaho, Montana and Nevada.
"This is one of those battles that never seems to go away; you just have different versions of it," he said. "The comment period will be the gathering process and a plan of action will be determined from there."
Brittany Gunn is the editor of the Wyoming Livestock Roundup. Send comments on this article to roundup@wylr.net.