Applauding agricultural excellence: Annual Agriculture Hall of Fame picnic celebrates four of Wyoming's finest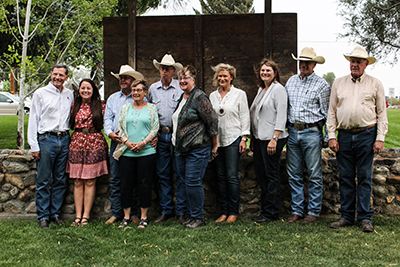 Individuals from across the state of Wyoming spent the afternoon of Aug. 18 gathered at Riverside Park in Douglas to celebrate the induction of Keith and Linda Hamilton and Dr. Jim Logan into the Wyoming Agriculture Hall of Fame and to recognize Reva Lobatos as the Wyoming Ag in the Classroom (WAIC) Educator of the Year at the annual Wyoming Hall of Fame Picnic hosted by Farm Credit Services of America, Clark and Associates Land Brokers LLC, the University of Wyoming College of Agriculture and Natural Resources and the Wyoming Livestock Roundup.
In addition to the many producers, Wyoming agriculture personnel and families of the inductees in attendance were Gov. Mark Gordon and First Lady Jennie Gordon, Sens. John Barrasso (R-WY) and Cynthia Lummis (R-WY), University of Wyoming (UW) President Ed Siedel, UW College of Agriculture and Natural Resources Dean Dr. Barbara Rasco and Holly Kennedy, Agriculture Policy Adviser for Rep. Liz Cheney.
"It is wonderful to be here tonight and to see everyone in attendance," said Gordon. "It is truly an honor to be gathered here this evening to support Wyoming's great agriculture industry."
Wyoming Ag Hall of Fame inductees
To kick off the annual event, Barrasso and Lummis presented the Wyoming Agriculture Hall of Fame inductees with their awards.
"This is such a tremendous honor. It shocked us to be here tonight, but we are certainly appreciative of it," said Keith in acceptance of the award. "I would like to thank Dennis Sun and the Wyoming Livestock Roundup for recognizing us and for those who took the time to write nomination letters on our behalf. I would also like to thank my folks and my kids for supporting us."
Linda also expressed thanks to the Wyoming Livestock Roundup, the couple's nomination committee and her family. She pointed out Aug. 18 is the day her and Keith were married 47 years ago.
"There have been a lot of special things happening today – Keith and I are celebrating 47 years together and we are also receiving this award, which is truly an honor," Linda said.
After thanking event sponsors and senators for his award, Logan commented, "This is a recognition I certainly never expected, but I appreciate it. I am very grateful to the livestock industry and all of the producers in Wyoming and the rest of the country for the opportunities I have been afforded, including leadership roles and committee roles, which have hopefully influenced some policy that will do good for the livestock industry."
"I also want to ensure my wife and children are properly recognized," added Logan. "Without their support at home there is no way I could have been on the road as much as I was or even seen success in my practice. They have done a lot of irrigating, lambing and feeding over the years while I was out doing other things, so they deserve a huge thank you."
He continued, "I have been really blessed and privileged to have the opportunity to serve, so thank you."
WAIC Educator of the Year
Following the induction of these three individuals into the Wyoming Ag Hall of Fame, Gordon and the First Lady recognized Fort Washakie Fourth Grade Teacher Reva Lobatos as the 2021 WAIC Educator of the Year.
"Reva has done an amazing job in her role," stated Gordon. "She has been a part of the Wyoming Stewardship Program and has everything to do with editing and making it happen. Reva, congratulations and God bless you for taking this on and for all you do."
In acceptance of her award, Lobatos commented, "I believe in this program so much. It is very near and dear to me. Teaching Wyoming kids using Wyoming resources and curriculum is my calling, my passion and my joy. So, to be recognized for doing it well means a lot to me."
Hannah Bugas is a corresponding writer for the Wyoming Livestock Roundup. Send comments on this article to roundup@wylr.net.