Cowboys succeed at NHSFR: Eastern Wyoming cowgirl brings home national championship title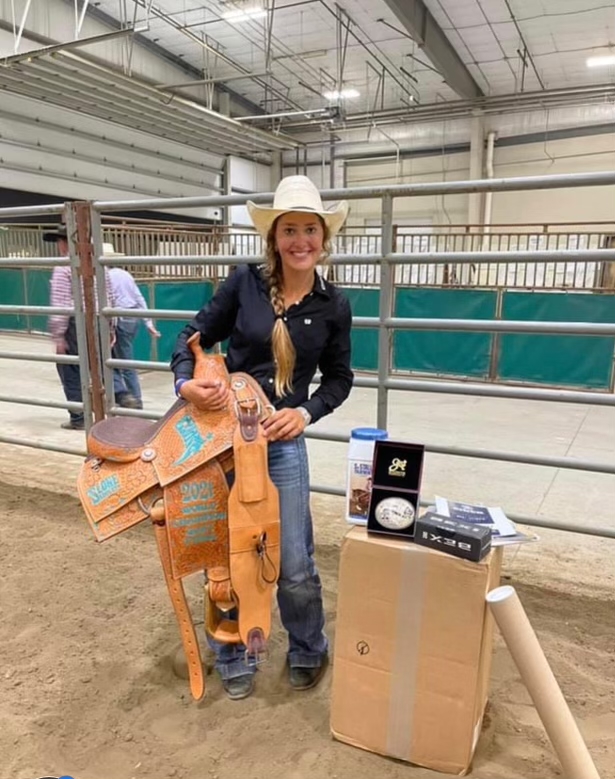 The National High School Finals Rodeo (NHSFR) just wrapped up at the Lancaster Event Complex in Lincoln, Neb. Many Wyoming high school students had a successful showing at this year's finals.
Among the top competitors, upcoming senior Haiden Thompson of Yoder won the goat tying event with an average time of 23.67 seconds. Thompson beat her next competitor by one-hundredth of a second.
While still young, the 17-year-old set big goals heading into the NHSFR. Putting in time at the arena back home, Thompson has been practicing and working hard to achieve these goals.
"My goal going into the finals was to make three good, smooth runs that I have been practicing," Thompson shared. "I ended up doing that and it all worked out."
Thompson won the first go with a time of 7.36 seconds. The second go, she fell behind, but still clocked in at 8.4 seconds. In the finals, Thompson finished in 7.91 seconds. Combined, these times won her the average title.
Reflecting on her exciting experience in Lincoln, Thompson explained, "I am most proud that all of my hard work actually paid off. I put countless hours of practice into it all. For it to have finally paid off, I am supper happy."
While Thompson was the one competing, she credits much of her success to others who helped get her to the rodeo.
"I was thankful for all of the opportunities I had been given just to be there. I could not have done it without my parents, my siblings or my sponsors," said Thompson.
Although this season has come to a close, Thompson is chasing the same title next year. She is confident her years of practice will help her put in three more smooth runs in next year's season.
Optimistic, she shared, "If it's not meant the be, it is not meant the be, but if I go do what I know how to do, then it should surely workout."
Wyoming NHSFR results
Thompson was not the only Wyoming contestant to find success in Lincoln. Numerous other Wyomingites made their way into the top 20 in their respective events.
Among the other female goat tying competitors, Sheridan's Tavy Leno took home 12th place honors. Her fastest time marked 8.01 seconds in the first round.
Wyoming barrel racers also made some noise. Jordan Morman of Gillette finished in seventh place. Maddie Fantaskey of Worland finished in 20th place. Ashlyn Goven of Rozet took the first go by storm with a time of 17.494 seconds, earning her first place in the round.
In the pole bending event, Rozet's Ashlyn Goven finished in fifth place. Weaving in and out between each pole, she finished in the top 11 in each go.
Reined cow horse contestant Maddie Fantaskey finished in fourth place. The Worland native glided, spun and slid on her horse all across the arena in Lincoln.
The women's events conclude with honoring the all-around cowgirls. This year, Wyoming cowgirls Ashlyn Goven and Maddie Fantaskey both earned overall honors.
On the boys' side of the rodeo, the rough stock riders brought home awards. Roedy Farrell of Thermopolis finished 12th in bareback riding. Jackson native Brody Hasenack earned third place in bull riding. He scored an 83 in the first go and 83.5 in the final round.
Tie-down Roper Will Albercht of Sheridan finished in 15th place. Coy Thar of Rozet and Cord Herring of Veteran both placed in the top 15 in the first and second go rounds.
                  Team roping cowboys brought some hardware back to Wyoming. The Casper duo of Mason Trollinger and Teagan Bently finished in third place with an average of 25 seconds. Partners Jade Espenscheid of Big Piney and Coy Johnson of Buffalo came together to take home 17th place. Thermopolis cowboys Jase Longwell and McCoy Longwell finished in 19th place. 
Overall, Wyoming had a successful week at the NHSFR. Bringing home numerous awards, the state finished sixth overall.
Savannah Peterson is an intern for the Wyoming Livestock Roundup. Send comments on this article to roundup@wylr.net.