Partnerships in management: 2020 award winners celebrated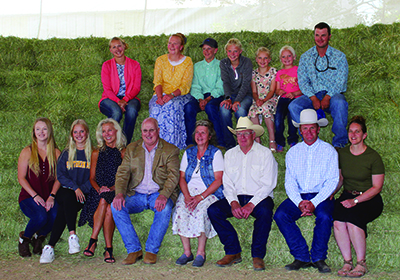 Postponed by the COVID-19 pandemic, the 2020 winners of the Wyoming Stock Growers Association (WSGA) Environmental Stewardship Award, the Double 8 Ranch in Elk Mountain, were honored at a ranch stewardship tour July 21.
The Williams family has been managing the Double 8 Ranch for the Scott family for three generations. For almost 70 years, the Williams family continues the long-held traditions of stewardship.
In their award nomination, Mindy Meade of the U.S. Fish and Wildlife Service shared, "The ownership of the Double 8 Ranch may lie in the corporate world, but the land management is Wyoming grown and Wyoming proud."
During the event, Owen Williams said, "The relationship between the Scott family and our family is amazing. Its hard to build a culture, but I'm proud to have been raised here and have the ability to raise my children in this environment."
In recognizing both the Williams and Scott families, WSGA Executive Vice President Jim Magagna shared, "A sincere congratulations to the Williams family and the Scott family. It is a good feeling to be a part of such a tremendous story and share how this ranch has evolved over three generations."
"We're proud at WSGA to be a part of honoring you for all of the good stewardship practices that have been implemented on the ranch," Magagna concluded.
Each year, WSGA, in partnership with the Wyoming Department of Agriculture, recognizes Wyoming Cattlemen whose natural resource stewardship practices contribute to the environment and enhance both productivity and profitability. The nomination deadline for the 2022 award is Sept. 24.
For more information, visit wysga.org/programs/environmental-stewardship-program.