Preparation in full swing: Wyoming county fair season is heating up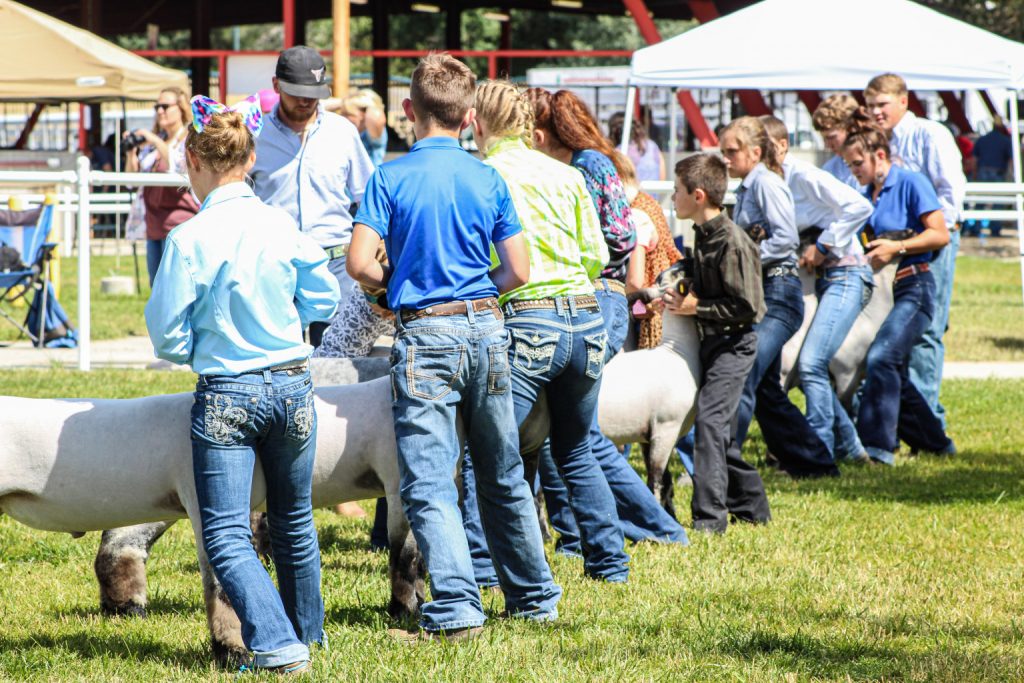 Throughout the state, 4-H and FFA members can be found working diligently as county fair season gears up in Wyoming. Many junior exhibitors are down to the wire, as some county fairs are days away, while others are only a few weeks from go-time.
Sheridan County's Maggie McStay and Crook County sisters Teagan and Tana Timberman shared with the Wyoming Livestock Roundup how their involvement in youth agricultural organizations and showing livestock have shaped their future.
Sheridan County Fair
"I am most excited to see all my friends at county fair," says 17-year-old Maggie, of Sheridan. "It's always one big social event."
This year, Maggie will exhibit two steers, two heifers and two pigs.
"It's my last year showing, so I might as well go out showing my favorite animals," she explains.
The upcoming college freshman has been involved in showing livestock for the last eight years.
"My favorite animal in the barn is most definitely my crossbred steer – he is like a big dog and he is super easy to work," Maggie continues. "I really enjoy my time working with him. I also have a Hereford steer, who looks the best, but he also is the most stubborn."
Maggie recently traveled to Hereford Junior Nationals to exhibit her Hereford steer in preparation for the Sheridan County Fair.
Maggie has many mentors in her life. But, one who stands out is her livestock judging coach, Travis Adam.
"He has really taken me under his wing and has taught me all I know," says Maggie. "He not only has given me practical livestock judging skills, but also skills that are applicable in the real world."
This is Maggie's last year showing livestock in Sheridan County, as she is headed to Kewanee, Ill. to attend Black Hawk East College where she is majoring in agriculture business. Along with being a student, she will also compete as a member of the livestock judging team. Her current goals are to start with Black Hawk East and move onto senior college.
"I want to be a breed representative when I'm through with college," she shares. "It's the ideal job, because they get to travel and talk about cows. Ideally, I would love to represent Red Angus or the Hereford breed."
The Sheridan County Fair will be held July 30-Aug. 9 in Sheridan.
Crook County sisters
Teagan and Tana Timberman are preparing a steer, lambs and chickens for the Crook County Fair, which begins July 24.
The sisters show through FFA and are members of the Whitcomb FFA Chapter in Moorcroft. Teagan will be exhibiting her steer and a lamb, and her younger sister Tana will exhibit her lamb and poultry.
The sisters strive to see improvements in their livestock every year and love seeing the end product of what they have raised.
"I am definitely excited to see how well my animal place in market classes," says Teagan. "I think the market show is my favorite part, because I can see not only where I place, but also all my handwork paying off."
This year, Teagan is showing a steer she received through a scholarship program in Crook County. The scholarship selects two of the best steers from a participating ranch as well as two students to receive the animals. The students must write an essay explaining why they would be a good recipient of the steer. Teagan was selected as one of two students, and she has been preparing her calf T.J. for the county fair.
The girls both voice their biggest mentors are their parents, Jobee and Jamie Timberman. The sisters are extremely grateful for their parents and how they strive to provide the girls with everything and anything they need help with while showing. The Timberman sisters also share their FFA Advisor Hugh Jenkins is another one of their mentors.
"Until Mr. Jenkins came along, neither of us would have been involved in FFA," says Tana. "He has taught us so much when it comes to agriculture."
This fall, Teagan will be attending the University of Wyoming to work towards a degree in criminal justice. She would like to be a personal investigator further down the road.
Tana will be a freshman in high school this year, and she is looking forward to one of her biggest goals – owning and operating her own hatchery. She currently has 60 chickens and is working towards growing her business.
Cameron Magee is an intern for the Wyoming Livestock Roundup. Send comments on this article to roundup@wylr.net.