Hamiltons earn Ag HOF honor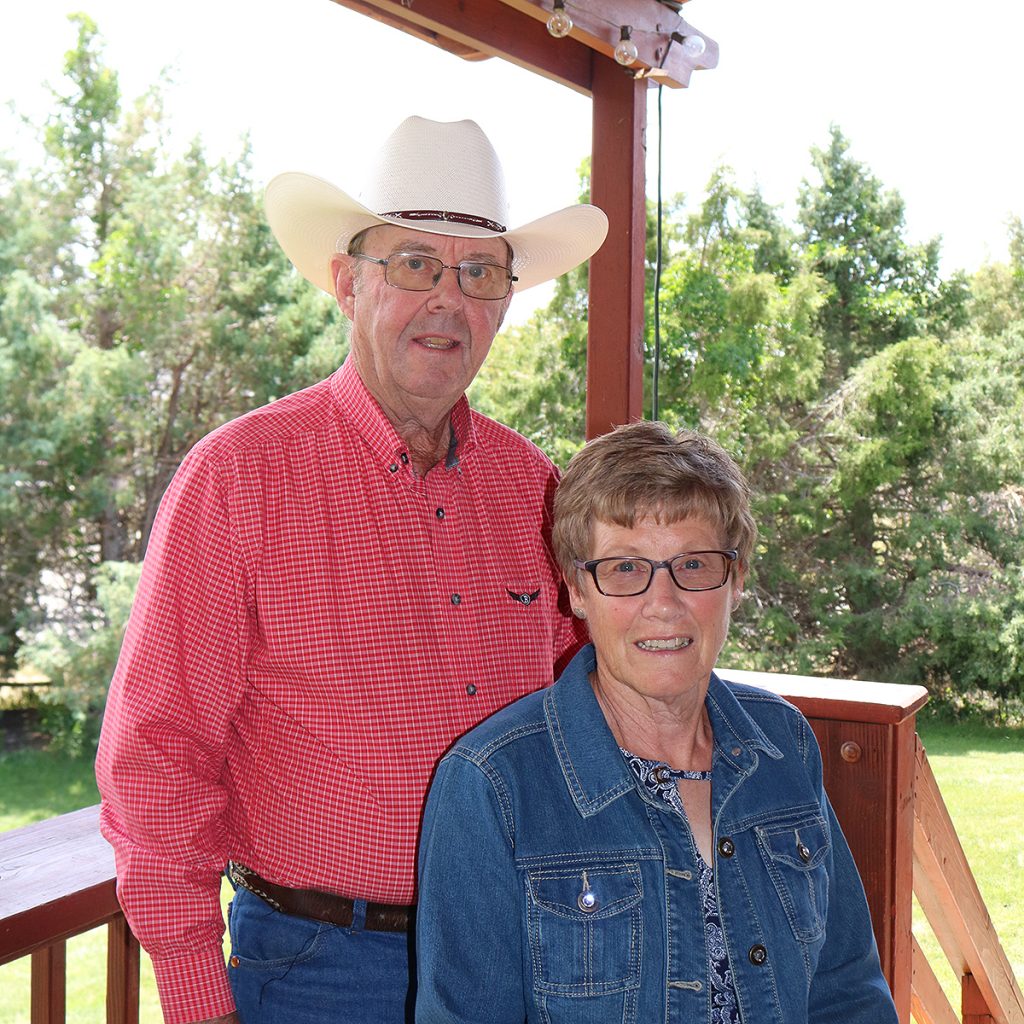 From improving their own operation near Hyattville through range improvement, sage brush control, stock water development and timber management to serving their local and state communities in leadership positions in many agricultural working groups and organizations, Keith and Linda Hamilton are prime examples of Wyoming's finest agricultural leaders.
"Keith and Linda are hard workers," writes Wyoming Farm Bureau Federation Media and Member Relations Director Kerin Clark. "The ranch keeps them very busy, but they both make time to serve Wyoming agriculture."
The nominating committee continues, "They've served on many committees and in many organizations over the years to improve the conditions of agriculture and it's sustainability in Wyoming, as well as to influence policy to promote the success and needs of agriculture. They are truly an outstanding pair in this regard."
Due to their unwavering dedication to Wyoming's ag industry, Keith and Linda Hamilton were hand-picked as Wyoming Agriculture Hall of Fame (HOF) 2021 inductees.
Keith – agriculture involvement
Growing up as the fourth generation on the Hamilton Ranch, Keith's agricultural involvement holds deep roots in working to advance agricultural leadership and conserve natural resources important to the western lifestyle. Throughout the years, Keith has been recognized as a strong voice for agriculture and a great role model for younger leaders.
Keith joined Wyoming Farm Bureau in 1975, and began taking on leadership positions in 1981 as the Big Horn County Farm Bureau vice president. In 1988, Keith joined the Wyoming Farm Bureau Federation Board of Directors and represented Big Horn, Fremont, Hot Springs, Park and Washakie counties as the northwest district director until 2010.
In addition to serving the agricultural community through the Wyoming Farm Bureau, Keith has been very active in serving on public lands boards, wildlife working groups and livestock organizations.
"He is currently our valued representative as the Wyoming Board of Director to the National Public Lands Council and he is the type of person I would like to have as a neighbor," shared Wyoming State Grazing Board Chairman Mark Anderson. "He and Linda have also contributed a lot to the sheep industry in Wyoming and the West. His family have ranched in the Basin for many, many years and he is a wonderful example of the types of family ranches Wyoming needs to remain in our business."
The nominating committee shares, Keith has also served as a member of the Big Horn Basin Sage Grouse Working Group, the Big Horn County Predator Management Board and is the past chairman of the Wyoming State Grazing Board.
Linda – agriculture involvement
There is no doubt both Keith and Linda Hamilton represent the epitome of hard work, integrity, giving, sharing and Wyoming hospitality, note the nominating committee. In fact, nominators share Linda leads with selfless volunteerism, a community-based spirit and outstanding work ethic.
"Linda is a leader in the field of agriculture and is an invaluable asset to the Hamilton Ranch," writes a member of the nominating committee. "She is a progressive leader and has shared much of her extensive knowledge of agriculture and financial matters within our local community and other agricultural communities throughout the state."
With a servant heart, Linda has dedicated her time and efforts to many events and organizations within the Hyattville community, as well as serving as a founding member of Wyoming Agriculture in the Classroom (WAIC). She has also served on the Northwest College Alumni Board of Directors, WAIC Board of Directors and the Hyattville Methodist Church Board of Directors.
"Linda joined the South Big Horn Conservation District Board in 1991 and has served ever since, holding the position of chairwoman for much of this time," explains South Big Horn Conservation District Chairman George Kelso. "She has actively promoted the district and its efforts to assist farmers and ranchers in the southern part of Big Horn County in improving their operations and protecting soil, water, plant and wildlife resources."
In addition, the committee shares Linda served on the Wyoming Association of Conservation District (WACD) Board for several years, and served as an important role as a spokesperson for conservation districts in both state government and the legislature. Linda served as a WACD councilman from 2009-13 and again from 2015-18. In addition, Linda represented the sheep industry on the Department of Environmental Quality Non-Point Task Force since 2005.
Nominators add, "Linda is dedicated to the promotion of local agriculture and the ranching way of life. She continues to demonstrate resilience and dedication, and will continue to do so for years to come."
Leaders in agriculture
In addition to their involvement in civic activities, Keith and Linda Hamilton's love and passion for agriculture show both in their dedication to organizations, as well as in the improvement of operations on their ranch.
The Hamiltons were one of four operations to initially enroll in the Wyoming Stewardship Program in 1982, later known as Coordinated Resource Management (CRM). This program opened the door for the Hamiltons to work closely with agencies such as Wyoming Game and Fish Department, Bureau of Land Management, U.S. Forest Service, Natural Resources Conservation Service and Wyoming Department of Agriculture on improving ranch operations. The Hamilton Ranch continues their involvement with these agencies to this day using the CRM format.
Additionally, the Hamilton Ranch was recognized as the 1998 Environmental Stewardship Award Winner, as well as a Wyoming Centennial Ranch in 2015 – both of which reflect the nature of Keith and Linda as leaders in agriculture.
Keith, Linda and the Hamilton Ranch are longtime members of the Wyoming Wool Growers Association, Wyoming Stock Growers Association. As well as past members of the Mountain States Lamb Co-op.
Keith shares, "It is a tremendous honor to be associated with the folks who have received this before us. We are tremendously thrilled."
Keith and Linda will be recognized, alongside Dr. Jim Logan, at the Wyoming Ag Hall of Fame Picnic at 5 p.m. Aug. 18 at Riverside Park in Douglas.
Averi Hales is the editor of the Wyoming Livestock Roundup. Send comments on this article to roundup@wylr.net.