Leadership development: Young producers share insight on experiences and future of beef industry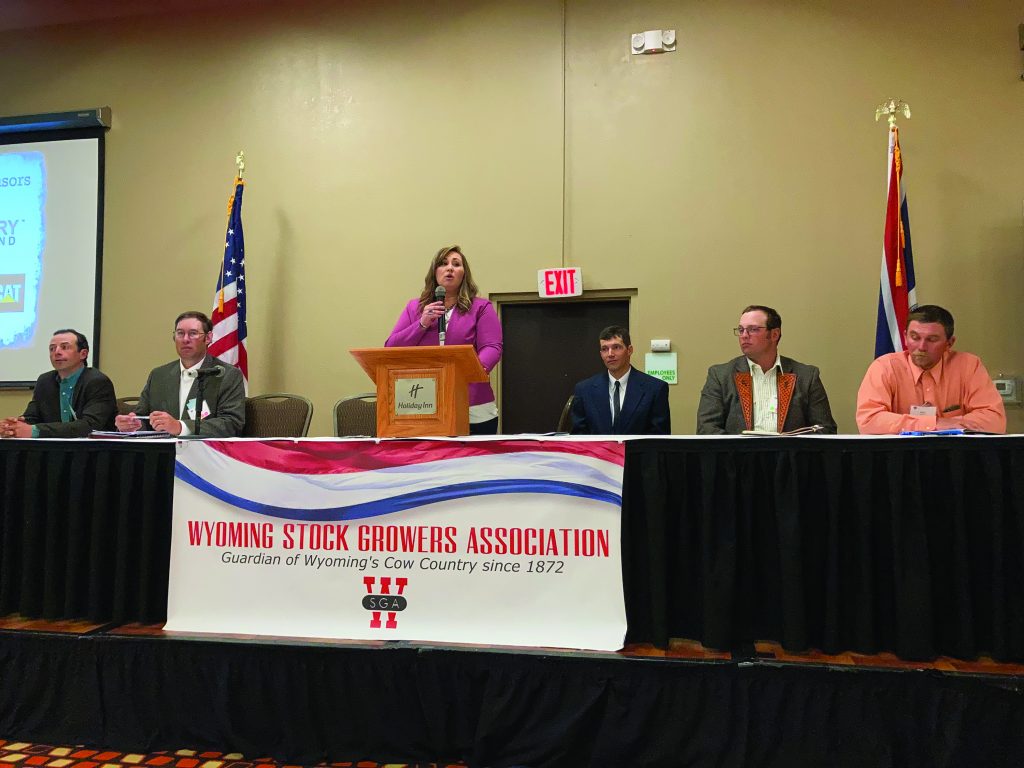 Wyoming Stock Growers Association (WSGA) President Scott Sims shared the WSGA Young Producer's Assembly (YPA) has gained a lot of traction in membership and leadership over the years. At the WGSA 2021 Wyoming Cattle Industry Convention & Trade Show held June 2-4 in Sheridan, the YPA presented a panel consisting of YPA Leaders Will Hudson, Sage Askin, Michael McGinnis, Leif Hanson and Ty Espy.
Throughout the discussion, titled "Our Version of Success," panelists answered questions from Moderator Kendall Roberts and shared their thoughts on how the group is working to position Wyoming's beef industry for success in the future.
Gaining exposure
A focus on efforts WSGA and YPA can utilize to better prepare future members to be successful in their production operations, while advocating for the beef industry has been invaluable.
"My main focus as YPA president was helping WSGA leadership to develop a marketing plan," shared Hudson. "Our young producers would benefit the most from the marketing plan in the future, and this project set the foundation for more young producers to join our group."
Hudson added there are many successes and highlights of the group through attendance at regional meetings, scheduling ranch tours to learn about each other's operations in different parts of the state and gaining exposure for the group. He noted the group has strong and ambitious leadership, and encouraged any young producer to reach out to members of the YPA.
Industry issues
Alongside leadership development and industry advocacy, YPA President Sage Askin explained there are many changes occurring in the ranching industry.
"I'm a fifth generation rancher, but not on the same ranch. So, essentially, I'm a first generation rancher," Askin said. "It's different, and a lot of things are changing in the ranching industry, while principles and morals have remained the same."
Askin noted the biggest difference he's seen in today's ranching industry for young producers is the discrepancy of land value.
"Land is no longer valued, bought or sold by it's productive or intrinsic value – we hope to keep it taxed this way – but, it is no longer sold this way," he explained. "This creates a strange dynamic many people are uncomfortable with."
Askin continued, "I always wanted to own a ranch, but in starting from scratch, I've learned leasing is the only viable option."
Today, land management and land ownership are often roles held by different people, Askin explained, and he only expects this to be more pronounced in the future.
"Because of this, I feel YPA especially, and us as producers, need to work together towards personal development and develop a diverse array of skills in finance and marketing," he shared. "The new future must consider owning 1,000 cows and no land, or owning 100,000 acres and no cattle."
McGinnis added the 30×30 Plan, as well as capital gains taxes and the Death Tax to the list of issues older and younger generations of producers are affected by.
In addition, Hudson shared climate change and sustainability are in ranchers' laps, and producers need to work hard to change the general public's perception of what happens on the ground.
"Consumers are so separated from agriculture, its hard for them to understand this is our living," Hudson said. "Without our caring for the land, the land will degrade and we don't make a living."
Espy noted one of the greatest pieces of advice he's received, especially in regards to issues in the cattle industry is sometimes not losing ground is just as good as gaining ground.
"Working together at a collaborative level will only increase in importance," Askin shared in regards to how YPA can tackle issues. "The number of stakeholders is ever increasing, and WSGA and YPA must remain diligent in working through issues today and in the future."
Leadership success
YPA Secretary Ty Espy said, "Whether by design or circumstance, I have experienced a lot of success personally and in the industry at 25 years old, thanks to industry involvement."
He noted the older generation of ranchers has been very accepting and encouraging of younger producers to get involved. He also shared young producers need to serve the industry by keeping the option of serving on grazing association boards or committees open to help advance the industry, as well as their own production.
"In 2014, I was thrown into keeping books for the ranch, which prepared me well for college, but it also gave me a seat at the table and this is something other young producers in the state don't feel they have yet," he said. "I have been very grateful for the opportunities I've been given, and hope to share with other young producers."
He continued, "In the last few months, we have set YPA up for success. We have done a lot of outreach and are building more momentum. I can't wait to see where this brings us."
Averi Hales is the editor of the Wyoming Livestock Roundup. Send comments on this article to roundup@wylr.net.