Dedicated to improvements: New organization looks toward future of U.S. sheep industry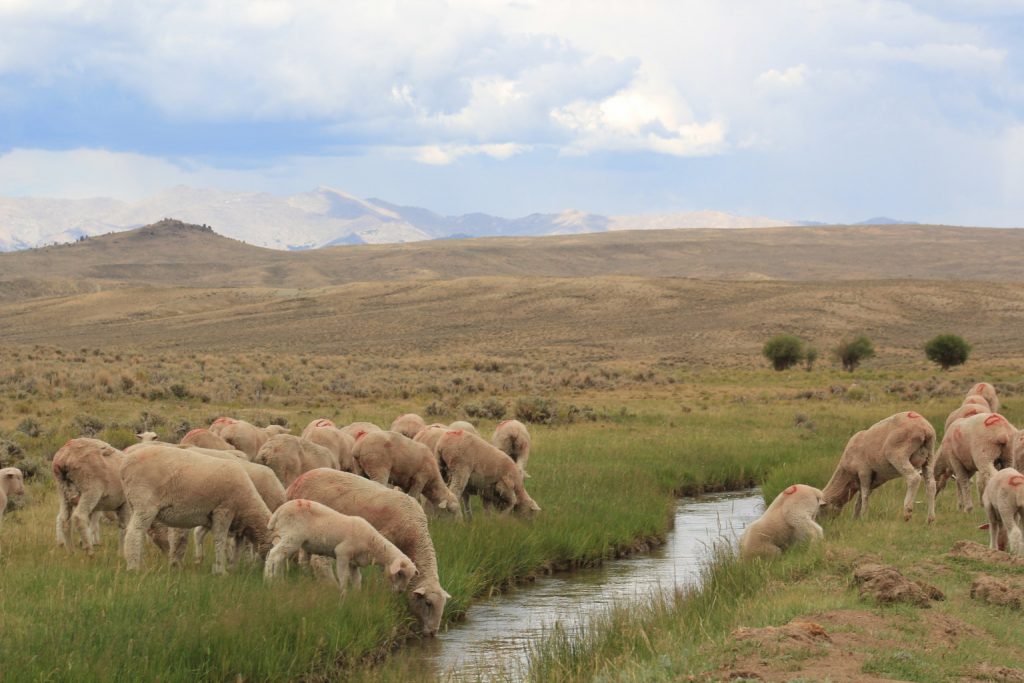 On May 11, a four-man panel of sheep industry experts, including Tom Boyer, Ben Lehfeldt, Brad Boner and Rusty Burgett, hosted a webinar in collaboration with the American Sheep Industry Association (ASI) to introduce Sheep Genetics USA – a new organization dedicated to advancing the U.S. sheep industry through genetic technology.
"Sheep Genetics USA is a proactive and collaborative initiative focused on improving genetic tools to enhance profitability through measurable goals leading to long-term success," states Lehfeldt, ASI secretary/treasurer and Sheep Genetics USA board member.
According to Lehfeldt, Sheep Genetics USA was born out of and built up from the successes of the National Sheep Improvement Program (NSIP) and ASI's Let's Grow Program.
"These programs have led to some industry-based forward thinking, which is what the U.S. sheep industry needs to move forward and be successful in the future," he notes. "We have also based some of our initiatives on other successful organizations across different industries such as the Beef Improvement Federation, Meat and Livestock Australia and Sheep Genetics Australia."

Collaboration, communication and connectivity
The panel explains although Sheep Genetics USA has multiple goals, the new organization is ultimately determined to connect the U.S. sheep industry through collaboration and communication.
In fact, Burgett, the current NSIP director, notes one of the biggest downfalls in the industry is the lack of communication between different segments.
"Through years of working with NSIP and engaging with both seedstock and commercial operations, I have noticed a lot of difficulty in the flow of information between different segments of our industry," Burgett says. "It isn't anyone's fault, it's just how it is. Sheep Genetics USA will provide a platform where everyone has a seat at the table. We can share information, make decisions collaboratively and move forward as a whole."
Burgett also believes a collaborative approach is the key to solving other issues in the industry.
"There are some other current issues we need to solve. In fact, at the last Let's Grow meeting, we identified a list of at least 20 different projects that need attention in the long term," he continues. "Sheep Genetics USA is a solutions-based organization so we are trying to develop solutions for everyday problems. The only way to do this is by creating a solid genetic foundation, and the only way to accomplish this is through a collaborative approach."
Additionally, Boner notes communication in regards to past and current research is critical in moving the sheep industry forward.
"Sheep Genetics USA gives us a platform to become a clearinghouse, not only for future research but for past research as well, which is something the industry desperately needs," states Boner. "This communication will allow us to come together as an industry and get behind research projects that have historically been disjointed and regional."
He further explains the Sheep Genetics USA collaborative effort will allow greater access to funds and grant money when it comes to research, as well as more industry-wide support, commitment and follow through.

Public involvement
Although the force behind Sheep Genetics USA is determined and forward moving, the panel notes the industry-wide collaborative effort they are pushing for will not be successful without the input of individuals across the U.S. Therefore, Lehfeldt, Boyer, Boner and Burgett encourage any and all individuals involved in the sheep industry to join the organization.
"Public involvement is huge," states Lehfeldt, further noting those who are interested in joining can sign up for free on the Sheep Genetics USA website and choose the grassroots committee they would like to represent.
"Individuals can choose between six committees – the American Lamb Board/consumer committee, the NSIP committee, the research, educators and emerging technology committee, the seedstock and registries committee, the ASI/producer committee or the feeder and packer committee," Lehfeldt explains. "We use these six committees to tie each segment of our industry together and make sure all voices are heard."
Lehfeldt also explains each committee has an assigned action lead – a supervisor of sorts who is responsible for sparking action within committees and communicating with action leads from other committees.
"Together, action leads will work on project prioritization, formulation and implementation," he says. "When there is an approved project, a crucial role for both action leads and the rest of the committee is to help with the project and communicate research findings."
Lehfeldt concludes, "Ultimately, Sheep Genetics USA has been created to connect and assist U.S. sheep producers in adopting genetic information, technology and research in their production systems while moving the U.S. sheep industry forward into a strong, independent and self-reliant industry."
Hannah Bugas is a corresponding writer for the Wyoming Livestock Roundup. Send comments on this article to roundup@wylr.net.