A positive outlook: Wyoming Livestock Board veterinarian shares disease outbreak remains minimal at this point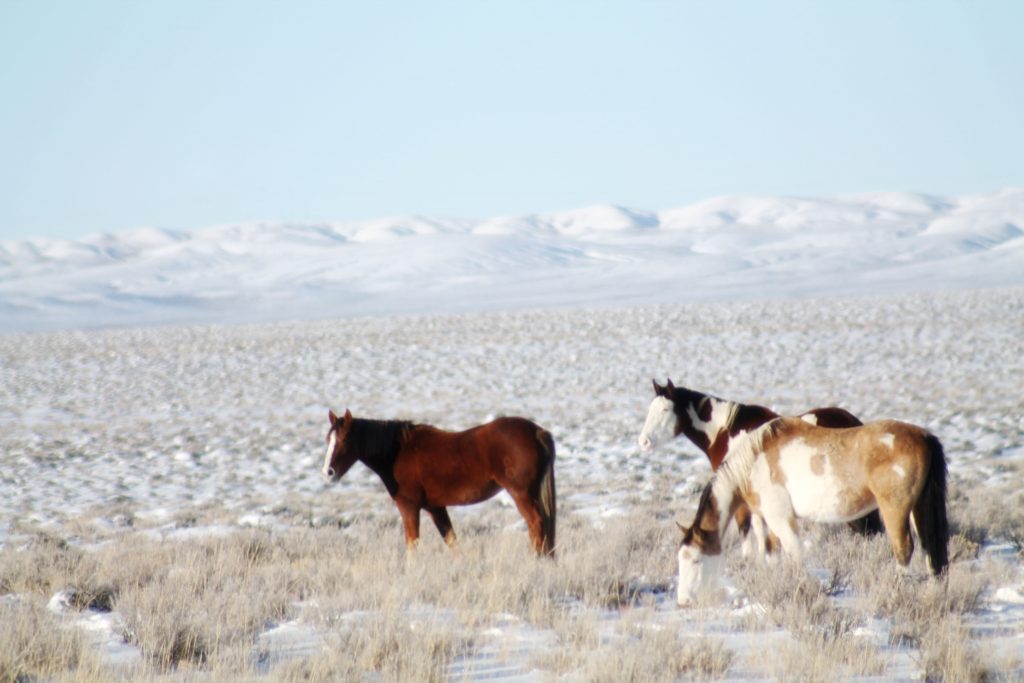 At the current moment, Wyoming Livestock Board (WSLB) Assistant State Veterinarian Dr. Hallie Hasel noted at the Fremont County Farm and Ranch Days in Riverton Feb. 3-4 there are no major disease outbreaks for livestock producers to be concerned with. While this determination has the potential to change, the outlook is positive.
Hasel shared information from the WSLB on Radio Frequency Identification (RFID) tags and gave an update on Rabbit Hemorrhagic Disease Virus (RHDV), brucellosis and vesicular stomatitis during her presentation.
RFID tags
"A few years ago, the U.S. Department of Agriculture (USDA) started implementing RFID tags," she said. "There was a ruling at the time giving dates on when USDA was going to stop using metal tags and start using RFID tags."
"The ruling is on hold as far as RFID tags are concerned, and there are not any timelines or deadlines at the moment," Hasel continued.
The hold comes with the change in administration, and Hasel believes there will be more information available as nominations progress and the new Secretary of Agriculture can look over previous rules. Currently, cattle and bison producers can get RFID tags at no cost for replacement females in their herds. Producers can contact WSLB for further information.
"RFID tags were implemented to assist in animal disease traceability and are important for tracking diseases coming into the U.S. and for tracing livestock disease movement throughout the states," said Hasel. "Animal diseases are not dissimilar from human diseases, and like we have seen on the news, once there is a disease outbreak in one state, it quickly travels to another."
RHDV in Wyoming
RHDV was confirmed in a wild eastern cottontail rabbit in Albany County in December 2020 according to the WSLB. Hasel said this disease moves very slowly, and the U.S. outbreak of RHDV started around two years ago at the southern border.
"RHDV has finally made its way to Wyoming in the last couple of months, and it is a big deal because it affects both domestic and wild rabbits," she noted. "When the rabbit population is depleted, there are serious issues up the food chain."
Currently, RHDV is in the wild rabbit populations in both Albany and Laramie counties, with a total of six confirmed positive cases, according to Hasel.
"This disease is difficult to control because all we see is sudden death," she added. "For those with domestic rabbits, biosecurity is the best mode of action. If domestic rabbits are not separated from wild rabbit populations, they are at an increased risk for RHDV."
Practices including cleaning clothing and shoes are encouraged, and visiting other rabbits or introducing visitors to domestic rabbits are discouraged.
"There are two vaccines currently available, but they are both in Europe," said Hasel. "Veterinarians are able to import the vaccine, however it is a lengthy process and expensive."
RHDV is affecting rabbits at an alarming rate, and Hasel shared if an individual notices dead wild rabbits to contact the Wyoming Game and Fish Department.
Brucellosis update
According to Hasel, a very small number of premises were under quarantine for brucellosis earlier in the month, and both are on their way out. The biggest issue, she shared, is the livestock-wildlife interface when it comes to transmitting the disease.
"Brucellosis primarily spreads during calving season, so livestock-wildlife interface during calving has the potential to increase brucellosis in our cattle herds," she said. "Brucellosis causes abortion, but it also can present as weakness in calves, stillbirths, reduced milk and arthritis."
With continued drought in the forecast, producers can expect the grazing pattern for elk to change if the state doesn't receive moisture. Because of this, Hasel recommended producers be vigilant.
WSLB requires cattle aged four- to 12-months-old be vaccinated for brucellosis and asks adult herds at high risk of transmitting the disease be vaccinated as well. Hasel shared WSLB field veterinarians are planning to visit producers in the designated surveillance areas to create herd plans, including a risk assessment, which has the potential to ease some producer requirements and save on vaccination costs.
Possibility of vesicular stomatitis
Not seen in Wyoming in 2020, vesicular stomatitis should be on producers' radars this year, noted Hasel.
"We didn't have vesicular stomatitis last year, but we can expect to see it this year," she said. "Hopefully, the next several months will tell us more about what we can expect."
Vesicular stomatitis presents as blisters in ears, tongues and on the coronet band, slobbering and frothy mouths, according to Hasel.
"The problem we have with vesicular stomatitis is sometimes it looks like foot-and-mouth disease, which is something we really don't want to see," she added.
Hasel recommended producers keep their eyes open for uncomfortable lesions near eyes, ears and hooves. The disease often spreads through flies or human movement.
"There is not a cure for vesicular stomatitis, so the best thing for producers to do is treat symptoms and improve biosecurity if this disease presents itself this year," said Hasel.
Averi Hales is the editor of the Wyoming Livestock Roundup. Send comments on this article to roundup@wylr.net.