Celebrating 75 years: Wyoming Association of Conservation Districts hosts their 75th convention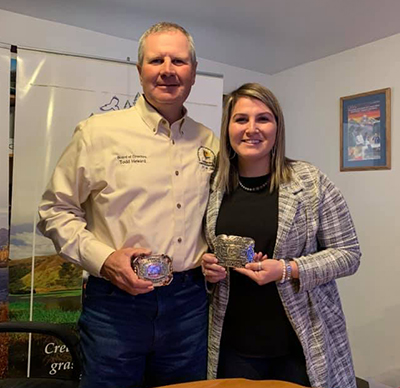 On Nov. 17-18, the Wyoming Association of Conservation Districts (WACD) celebrated the 75th anniversary of their annual convention. Originally scheduled for Nov. 16-18 in Torrington, the event was consolidated and moved to a virtual format due to the rise in COVID-19 cases throughout the state.
"It was a difficult decision to move to a virtual convention, but we truly appreciate all of our attendees' understanding and cooperation," stated WACD President Todd Heward. "We all miss being together in person, especially since it was the best part of the WACD convention, but we are thankful to be here together virtually."
After a full day of committee meetings on Nov. 17, Heward, alongside Gov. Mark Gordon, Congressman Liz Cheney (R-WY) and Sens. Mike Enzi (R-WY) and John Barrasso (R-WY) addressed attendees on Nov. 18 in regards to the association's 75 years of service.
Celebrating the past, looking to the future
"Convention 2020 is a historic convention as we celebrate 75 years, from a humble four districts in 1921 to today's 34 districts across the state," said Heward. "Wyoming's conservation districts have a great history of serving our land owners and our communities."
Throughout these 75 years, Heward explained WACD has continuously strived toward their overarching mission to provide leadership for the conservation of Wyoming soil and water resources, promote and control soil erosion, promote and protect the quality of Wyoming's water, reduce silt in streams and reservoirs, promote wise use of Wyoming's water and other natural resources, preserve and enhance wildlife habitat and promote the health, safety and general welfare of citizens across the state.
"With the global pandemic and COVID-19 restrictions, a downturn in the economy, budget cuts and several natural disasters, this year has been challenging," Heward stated. "But, I believe the same resilience carrying us through the past 75 years will continue to carry us forward."
In the spirit of celebrating the past and looking forward to the future, Heward also thanked Bobbie Frank, former WACD executive director and welcomed the new WACD Executive Director Hunter Petsch.
"This year we began a new chapter of our association as we said goodbye to our longtime friend and associate director of 30 years, Bobbie Frank. She has been instrumental in carrying this organization to new heights, and we wish her the best," he said. "We proudly welcome Hunter Petsch as our new director, and we are looking forward to accomplishing great things under her leadership."
Honoring 75 years of service
During the session, Wyoming's delegation took to the screen to thank WACD for their 75 years of service.
"While we are all wishing we could be together in person to celebrate WACD's 75th anniversary, I am excited to have the opportunity to share this special time with you, even if it is just virtual," stated Barrasso. "From invasive species control to wildfire remediation, my staff in Washington, D.C. relies heavily on WACD's expertise in water, conservation, wildlife and forestry."
"I want to commend WACD for the work they do every year to keep our natural resources healthy and our communities safe," he added. "As WACD celebrates their 75 years of service to Wyoming, I offer my congratulations and thanks."
Cheney also thanked the association for their hard work.
"Our 34 conservation districts, tasked with carrying out natural resource management programs at a local level, are the reason our state continues to be the best in the nation," she noted. "In the House, I will continue to work on Wyoming's ability to make decisions concerning land, water and wildlife. I wish WACD a successful meeting and another 75 years of moving Wyoming into the future."
Enzi commented, "I would like to send my best wishes and congratulations on the 75th anniversary of WACD's convention. It has been an honor to work with all of Wyoming's residents during my time in the Senate, and I look forward to watching this group continue fighting for the Wyoming way of life."
Hannah Bugas is the managing editor of the Wyoming Livestock Roundup. Send comments on this article to roundup@wylr.net.